SELECTED NEWS ITEMS
NEW ADDITIONS TO THE WEBSITE.
New British Legion Page. We were very pleased to be asked to add a page (with corresponding menu entries) for the Whiteparish Branch of the Royal British Legion. You can see contact information and some background about the Royal British Legion by clicking here.

World Wars Memorial/Remembrance Book. We have also added a page about the "Whiteparish Book of Remembrance to the Fallen of the Great Wars" that a team of volunteers recently compiled to mark the 100th anniversary of the start of WW1. For a little more background about the book (which we understand may eventually go on display in All Saints Church), click here. To go straight to view a pdf file of the book's inside pages, click here.
CHURCH PAGE PROBLEM
Apologies to anyone who has tried to access the website's page for All Saints Church recently (in particular the monthly diary of services), and has been greeted with an error message instead. This has arisen because whiteparish.co.uk's hosting company recently upgraded their servers, causing some glitches here and there on the website. The problem with the church page has been the most stubborn, but we're working on it with the hosting company and hopefully it will soon be fixed. (It was actually working yesterday, but has since broken again. Grrr.)
BROADBAND DOWN THE A27.
A new poster notice to do with fibre broadband was stuck on the green BT box outside Courtens recently, and on further investigation we were delighted to find that we could actually order it now, from our chosen supplier. Many of us down in this corner of the Whiteparish exchange area will be quite a distance from the green box, but hopefully most of us could see a worthwhile improvement in broadband speeds by ordering a fibre package.
Are there any other pockets of the Whiteparish exchange area that are still waiting to be able to order fibre? We'd be very interested to know.
GET WILTSHIRE WALKING!
The Get Wiltshire Walking! campaign, sponsored by Wiltshire Council and part of the nationwide Walking for Health initiative, provides free walking groups led by trained walk leaders operating from over 20 locations around the county. According to the information we were sent, walks may be "starter walks" lasting around 30 minutes, "fit walks" lasting around 45 minutes and designed to get heart and lungs working harder, and "standard walks" which last around an hour and a quarter. Most of those listed seem to be standard walks.
Unfortunately nearly all the starting points for the walks are located north of Salisbury (from Amesbury upwards), but there is one in our neck of the woods (starting at the Borough Cafe in Downton), and and of course there are many independent walking groups, such as Salisnury and District Walking for Health. For a leaflet in pdf format about the Get Wiltshire Walking! scheme, including contact details for some independent walking groups, click here. For information about free training as a walk leader, click here.
PARISH COUNCIL: ANNUAL PARISH MEETING.
The Annual Parish Meeting was held on 24th March 2015, in the Memorial Centre, followed by a regular Parish Council meeting.
At the Annual Parish meeting, points raised by the 15 members of the public present included rubbish on the A36, a 20 mph speed limit on part of Common Road, possibly unnecessary road markings on Parkwater Rd, access to Mean Wood, and artwork design for the skate ramp. For details, click here.
Topics covered at the normal Parish Council meeting included a vacancy on the Parish Council (contact the parish clerk or a councillor if interested), the Miles Lane/A27 junction, the Parish Council boundary fence, the skate ramp, the Best Kept Village competition, rights of way, and dog mess (again). For details, click here.
CRIME IN MARCH 2015; NEW PCSO.
According to the lastest reports from the Neighbourhood Policing Team, March was a quiet month for Whiteparish crimewise, with just one theft listed. However, PC Henry Clissold also writes:
"New PCSO in Training
Our new PCSO Guy Hamel has started with the team and is currently under tutorship, I am sure he will be seen around the villages in the coming weeks, please make him feel welcome."
For more details, of local crime in March, click here.
WHITEPARISH MUSIC FESTIVAL: 11 to 18 April


Just a reminder about the week-long Music Festival being held between the 11th and 18th of April, in Whiteparish's All Saints Church, in aid of church funds. The events kick off on Saturday 11th April with a "Come and Sing" rehearsal and performance of Puccini's "Messa di Gloria", directed by Michael Keeley. On Tuesday 14th All Saints Church Choir perform music by Thomas Tallis and Thomas Ravenscroft, followed on Thursday by the Farrant Singers performing choral classics. Finally, on Saturday Will Pickvance (the chap on the left) brings his Edinburgh Fringe show "Anatomy of the Piano" to Whiteparish. All performances very reasonably priced; for more details, click here.
COMMUNITY NEWS IN SOUTH WILTSHIRE
A couple of recent announcements from this SWAB-run email newsletter:
Local Youth Network for Whiteparish cluster of villages
Got an idea for a youth project? Want support setting up a group? Got nothing to do and want to let us know what you want?
It is also an opportunity to be part of a working group to help support what is needed for youth within your community, as well as:
• A chance to generate ideas, visions and people to move forward with positive youth activities in your area
• An opportunity to learn about Area Board funding and grants available.
To see the whole newsletter, click here.
Do you need funding for your group?
Our challenge is to make a positive change in Wiltshire and Swindon by helping local groups make life better for their communities. We want to help you to support those who need it most. For more information and to see the whole newsletter, click here.
VOLUNTEERING FOR AGE-UK.
Recently we received a press release from the Age-UK office in Salisbury about a new push for volunteer home visitors. Although the release doesn't make it obvious, they tell us that volunteers can be matched to areas, so if you wanted to join the scheme and concentrate on visiting in and around the Whiteparish area, that is presumably possible. For more information, you can see the press release by clicking here.
PARISH COUNCIL NEWS.
Among the topics discussed at the 24th February Parish Council meeting were the following:
A 20 mph speed restriction along part of Common Rd, which is now to go ahead.
The poor condition of Miles Lane.
A temporary closure of Dean Lane between its junctions with The Green, and bridleway 33, to enable Wessex Water to work on the carriageway. This closure is expected to last for one day.
For more information about these and other matters discussed, including a telephone number for enquiries about the Dean Lane closure, click here.
LOCAL CRIME IN FEBRUARY 2015.
For the second month running, according to the regular bulletin from the Neighbourhood Policing Team, Whiteparish had more reported crimes (three this time) than any of our twelve neighbouring communities, eight of which had no reported incidents (in the categories of crime included in these bulletins). So a very quiet month in general, but not for us! For more details, click here.
MUSIC FESTIVAL, 11th to 18th APRIL.
Following the success of previous events over the last few years, the 2015 Whiteparish Music Festival will include four separate concerts to be staged in All Saints Church during April. These will be:
Saturday 11th April: "Come and Sing" Puccini's Messa di Gloria, directed by Michael Keeley.
Tuesday 14th April: "A Tale of Two Thomases"—music by Thomas Tallis and Thomas Ravenscroft, sung by the All Saints Church Choir
Thursday 16th April: "Nunc Dimittis, choral classics from around Europe", sung by The Farrant Singers.
Saturday 18th April: "Anatomy of the Piano", Will Pickvance performs his Edinburgh Fringe Show.
For full details, including times and where you can get tickets, click here.
AREA BOARD SURVEY
Area Boards like the Southern Wilts Area Board (SWAB) have been operating in Wilts for over five years, and Wiltshire Council would like to know what you think of them (even if you've never attended one), and other related facilities such as the online-issues system and the Our Community Matters website and newsletters. To fill in the Council's online survey, click here. But hurry, because the survey closes on 9th March 2015.
BROWNIE NEWS
For a round-up from "Little Owl" of what our local Brownies got up to during 2014, click here!
BROADBAND DOWN THE A27.
Residents living in the heart of Whiteparish have had the opportunity to connect to so-called "Superfast" broadband since the middle of 2014. However some who are further away from the village exchange haven't, and if you're among them (like us) you may be wondering if we've been forgotten. We're glad to be able to report that for people living in the village outskirts on or around the A27 in the Romsey direction there's hope. We contacted Wiltshire Online recently and got the following reply:

"Thank you for your query. Your premise is served by Cabinet 1 from the Whiteparish exchange which is in the progress of being upgraded as part of this project. Unfortunately we are having issues with getting a power connection to the new fibre cabinet. Ordinarily the power would be brought from a suitable power supply through an underground duct however, in the case of your cabinet the power is having to be brought via an mixture of both underground and overhead power. In addition we are also having to connect to a high voltage cable which will require us to shut down the power to the area. Unfortunately all these issues mean that we are reliant on the power company providing us with a specialist resource who is able to undertake the required works.
As yet I don't have a date for when the work can be undertaken; may I suggest contacting me again in 4-6 weeks for an update?"
So it looks as if there's light at the end of the tunnel for premises connected to Cabinet 1, though just how super the "superfast" will be if you're an appreciable distance from the cabinet remains to be seen. We'll try to remember to check on progress in a few weeks. Meanwhile, are there any other areas served by the Whiteparish Exchange where superfast is still not orderable? We'd be interested to hear from you. (To find out which cabinet you are connected to, click here.)
WILTSHIRE & SWINDON COMMUNITY MESSAGING LAUNCH.
Katrina Fleet of Wiltshire Police writes to ask us to publicise a new service, as follows:
"You can now sign up for free messages - by email, text or voicemail - about policing and crime matters relating to your area and interests by joining Wiltshire and Swindon Community Messaging. Wiltshire Police and the Police and Crime Commissioner for Wiltshire and Swindon, Angus Macpherson, are committed to involving communities in the prevention and reduction of crime and anti-social behaviour. Working alongside Neighbourhood Watch, Wiltshire and Swindon Community Messaging aims to improve the flow of information between communities and the police.
PCC Angus Macpherson, who is commissioning this new initiative, said: "The whole of Wiltshire is now covered by Swindon and Wiltshire Community Messaging, bringing the public into contact with the police and Neighbourhood Watch. "I now look forward to working with other partners in Wiltshire and Swindon to extend the excellent services provided by Wiltshire Police and to build on the title 'Community' Messaging."
Wiltshire Police Chief Constable Pat Geenty said: "Community Messaging enables us to reach out to all the people that may not use social media and other channels. It provides the public with messages in a format that suits them and keeps them up to date with police matters in their local area."
People signed up will be able to receive messages about policing and crime matters in their area, such as community policing news and events, appeals for information and crime prevention advice. They will also be able to reply to messages, feeding back information to their local neighbourhood officers to help them in policing their local area.
To find out more and to sign up visit www.wiltsmessaging.co.uk or speak to your local police officer. Wiltshire and Swindon Community Messaging will NOT be monitored 24 hours a day. People should always call 999 in an emergency or 101 in a non-emergency."
PC Henry Clissold, our local Community Beat Officer, adds: "As a team we would love you to sign up to this new initiative which provides us a great opportunity to get messages and information out to our areas in a timely fashion."
EASTER CHILDREN'S COURSES.
In the usual smörgåsbord of interesting items appearing on the "our Community Matters" website for southern Wiltshire recently are two Easter courses for children, to be run fairly locally. These are
"Shine"—aimed at helping children aged seven to eleven to lose weight, held at Manor Fields Primary School in Salisbury, (click here for more details); and
"Sloggerz"—cricket courses for eight-to-14-year olds, male or female, held at Bishop Wordsworth's School, (click here for more details).
For the current issue of Our Community Matters, click here.
LOCAL CRIME IN JANUARY 2015.
In the first month of the new year, Whiteparish had more reported crimes (four) than any of our neighbouring communities, including thefts of heating oil and a trailer, and burglary of a garage. A quiet month for West Dean, the Grimsteads, and Pitton though, with no reported incidents. For more information, click here.
PROPOSED SOLAR PARK.
The developers Hive Energy are holding a second presentation on Wednesday 25th February about the proposed Solar Farm at Witherington Farm, just off the A36 on the outskirts of Whaddon. At the meeting, interested local residents will have the opportunity to ask questions and see images of the proposed development. This meeting will be in Alderbury Village Hall, starting at 7.30 pm, with doors opening at 7.00 pm. You can see more on Hive Energy's website by clicking here.
PARISH COUNCIL NEWS: ANNUAL PARISH MEETING
At their meeting held on the 20th January 2015, the Council invited villagers to come and meet their Parish Councillors and find out what the Parish Council does at the Annual Parish Meeting on Tuesday 24th March at 7.30pm in the Memorial Centre.
Everyone is welcome. Although the meeting is chaired by the Parish Council Chairman, it is just what the name suggests: a meeting of the parish. If you have any concerns or wish to raise a particular matter of local concern, then why not come to this meeting and have your say, and find out what else is hsppening in the parish?
Other topics covered included a possible change of status for the Post Office, from a branch to one of the new "local branches" Dog mess (again), and opportunities for volunteering to improve public paths in South Wilts. For moare about what was covered at the meeting, click here.
CORE STRATEGY DEVELOPMENT PLAN ADOPTED
Wiltshire Council have distributed the following announcement:
"On 20th January 2015, Wiltshire Council adopted the Wiltshire Core Strategy Development Plan Document (the Plan). The Core Strategy sets out the vision, objectives, spatial development strategy and overarching policies that will guide development in Wiltshire to 2026.
The Plan was the subject of an independent examination conducted by an Inspector appointed by the Secretary of State. The Inspector's Report was published in December 2014 and the adopted Plan incorporates the main modifications recommended by the Inspector in his Report.
Any person aggrieved by the Plan may make an application under Section 113 of the Planning and Compulsory Purchase Act 2004 to the High Court on the grounds that the document is not within the appropriate powers or that a procedural requirement has not been complied with. Any such application must be made by no later than six weeks from the date of adoption, 20 January 2015.
Details of where you can view the Plan and associated documents (including the Inspector's Report, Adoption Statement, Sustainability Appraisal (SA) Report and SA Adoption Statement, and Habitats Regulations Assessment) are set out in the Adoption Statement attached." (Viewable by clicking here.)
CRIME OVER CHRISTMAS.
According to the local crime reports for December 2014, provided as usual by our local Neighbourhood Policing Team, December was, perhaps surprisingly, a fairly quiet month locally—everywhere except Whiteparish! With most of our neighbouring communities experiencing no crimes or one (in the crime categories covered by these reports), we had five, including two incidents involving stolen chainsaws and one instance of security camera theft! For more information, click here.
PARISH COUNCIL NEWS.
At their meeting on 11th December 2014, the Parish Council were pleased to receive certificates and a cheque from Dr Peter Claydon, representing the CPRE (Council for the Preservation of Rural England) for placing well in the Best Kept Village 2014 competition. The council commended villagers for taking great pride in Whiteparish. Other topics covered included the co-option onto the council of Dr Andy Eynon; the Parish Precept; speed indicator signs; overhanging vegetation and residents' responsibilities with respect to it; bus service changes; the telephone kiosk, and nomination of three councillors to serve on the Whiteparish Memorial Trust. For more information, click here.
RESCHEDULED RUBBISH & RECYCLING COLLECTIONS.
Please note that there will be no Friday collections on Boxing Day (26th December). Instead, after Christmas the first plastic bottle and card recycling collection, and the first black box collection, will take place on Tuesday 30th December, with the next collection (both recycling and black box) on Monday 12th January. The first household waste collection will take place on Tuesday 6th January 2015, with the next waste collection on Saturday 17th January. After that we're back to the usual pattern of alternating Friday collections, with the first being recycling and black box collections on Friday 23rd January.
HAPPY CHRISTMAS FROM YOUR FRIENDLY NEIGHBOURHOOD SPAMMERS!
Sadly, the people who send out spsm emails in the hope of installing "malware" on our computers are already trying their luck with Christmas and/or charity themes. We received a fairly convincing email on 18 December (and several subsequently) with the subject line "Card Receipt", purporting to come from a Tracey Smith of Aquaid, with logos from Aquaid, The African Trust, and Christian Aid across the bottom, and including an MS Word attachment that the email described as an invoice. It's not, it carries a virus. If you get one of these emails, just delete it; don't try to open the attachment.
It seems quite likely that there will be more of these during the Christmas season, not necessarily with the same details but following a similar pattern. The best advice, as always, is never to open an attachment from somebody you don't know, and that you're not expecting. Many people think that a Word document can't do any harm, but it certainly can; the spammers can use Word's macro language to do evil things! Always, if in doubt, delete!
GOOD RESULTS FROM DECEMBER FUNDRAISERS.
Two events on one December weekend did very well, both in terms of the funds raised, and the fun they provided for supporters. On Saturday 13th December, the 100+ Club's Christmas party raised nearly £600 towards running the new Memorial Centre; and on the following evening the Pop Quiz in the Parish Lantern raised £245 for the Youth Club. Well done to all concerned!
CID ADVICE TO PROTECT ELDERLY NEIGHBOURS.
Following burglaries of elderly residents in North Wilts, Detective Constable Antony King from Central CID provides the following advice.
"I would urge residents with elderly neighbours to be extra vigilant during the Christmas period and to report suspicious behaviour to the police. It may be that this offender is targeting elderly people and may have visited previously as a bogus caller. News of these crimes can be very frightening to our elderly community but with the right preventative action and support from neighbours and family, we can prevent this happening.
We all can be the best of neighbours and help any elderly or vulnerable people in our community to secure their premises at night and not to open their doors unless they are expecting a visitor. Remind your relatives and friends not to let strangers into their properties. By adhering to the following advice, you can reduce your chances of becoming a victim of burglary or bogus callers:
Always keep your door shut and locked.
If someone comes to your door and you aren't expecting a caller it is important that you check who it is by using a spy-hole or look through a window. Do not open the door to anyone you don't know or are not expecting.
Official visitors will always arrange an appointment with you beforehand – if no appointment has been made, don't open the door.
Do not keep large amounts of cash at home – it is much safer in a bank or building society. Always keep purses and wallets hidden away, out of sight.
Never keep pin numbers with credit or debit cards.
Never agree to have work carried out by someone who is just passing, or believe such people when they claim that repairs need to be made. If you think work might need to be done get quotes from three companies and ask friends and neighbours for recommendations.
If you see anything suspicious or think a bogus caller may have called at your door, report it to police immediately by calling 999."
NOVEMBER 2014 CRIME REPORTS.
The latest local crime reports forwarded by the Alderbury and Laverstock Neighbourhood Policing Team show a fairly quiet month for Whiteparish, with just two crimes listed, but a rash of mostly vehicle-related crime in Winterslow. For the full report, click here.
SOLAR PARK IN DOWNTON PARISH: 28th November Meeting.
Although we don't usually include stories about happenings in neighbouring parishes, this one might be a justified exception because the proposed solar park would be located close to the parish boundary, possibly within sight of some Whiteparish properties. A "Public Consultation Event preview" is being staged between 3.00 pm and 7.00 pm on 28th November 2014, in Downton Memorial Hall. For more information, click here. For a FAQs document, click here.
SWAB TO MEET IN MEMORIAL CENTRE.
The South Wilts Area Board (SWAB) will be holding their next meeting on Thursday 4th December in our new Memorial Centre, starting at 7.00 pm, with refreshments available from 6.30 pm. We are invited to "come along and take part in discussions on the local economy". The meeting will include presentations from the Cabinet Member for Economic Development, the Salisbury BID Manager, and the Enterprise Network Manager; plus opportunities to chat with representatives from police, fire, and parish council, and to hear updates on youth, transport, and local community projects.
FUNDING FOR GETTING PEOPLE ONLINE.
The Area Boards and Wiltshire Online are now inviting bids for funding to help people make the most of the internet and computers across the county. This could involve installing broadband into village halls, purchsing laptops or tablet computers for use by local people, improving your IT training facilities, creating IT hubs or providing assistive technology for people with disabilities. Applications for capital equipment are welcome.
You will simply have to demonstrate that your project will help more people to get access to the internet and computing, gain skills or help them get more from IT technology to help them in their everyday life. To learn more about the grants scheme, click here. To start an application, click here.
WILTS COUNCIL CAR PARKING REVIEW.
Wiltshire Council is currently consulting with residents, parish and town councils, and other interest groups on its new Car Parking Strategy, as it relates to various areas within the county. We guess that for most Whiteparish residents the car parking strategy relating to Salisbury would be of most interest, though respondents are not limited to commenting on a single area.
The consultation runs until the 16th January 2015. To comment on parking in Salisbury, click here. If you want to comment on parking in any other areas of Wilts, click here to select them.
CARERS' RIGHTS QUESTION TIME.
On Friday 28th November, a discussion will be held in "Qusestion Time" format in Devizes Town Hall, at 10.30 am, with representatives on the panel from Carers' Trust, Wiltshire Council, Citizens Advice, Healthwatch Wiltshire, and local solicitors. Questions have to be submitted in advance by email. For more information, click here.
ROMAN EXCAVATIONS IN SOUTH WILTS.
In a recent addition to the Wiltshire & Swindon History Centre (WSHC) Blog, Assistant County Archaeologist Clare King describes some recent excavations of Roman structures in South Wilts. Unfortunately at this stage WSHC are being coy about the precise location of these digs, until the sites have been formally "written up"—so they might be somewhere fairly near Whiteparish, or they might not. Anyway, to see this interesting blog, with photos, click here..
PARISH COUNCIL NEWS.
It seems that our public phone kiosk (at the junction of Common Road and The Street) is on a BT list of proposed public payphone removals. However, there is the opportunity for the Parish Council (or a registered charity) to "adopt" it, and take over the maintenance costs. This will be discussed at the next Parish Council meeting, at 7.30 pm on the 11th December in the Mamorial Centre. If you have any comments, please email the Parish Clerk, Maria Pennington, on maria.pennington456 @ btinternet.com (leave out the spaces around the "@"). For more details of this and other items discussed by the PC at their meeting on 16th October 2014, click here.
LOCAL CRIME FIGURES FOR SEPTEMBER 2014.
Basically they are down, which is always good news. Of the 13 communities covered in the monthly bulletins supplied by the local Neighbourhood Policing Team (NPT), six—including Whiteparish—reported no crimes (though we have to remember that not all categories of crimes are included). For more details, click here.
HALLOWEEN & FIREWORKS PRECAUTIONS.
PC Henry Clissold has forwarded the following advice from our Neighbourhood Policing Team in relation to Halloween and Bonfire Night/Fireworks celebrations:
"Local NPT officers will be making additional evening patrols over the week-long period around Halloween and Bonfire night. In recent years we have seen a reduction in reports of anti-social behaviour during this period which suggests that local parents and young people are celebrating these events in an appropriate and responsible manner. However, this period can be a stressful and nervous time for some local residents worried about 'trick or treat' visits and loud noise from Fireworks. Parents should ensure that any celebrations are supervised and respect the privacy of those not wishing to take part.
As in previous years, local Police will be distributing Halloween posters which can be displayed by those not wishing to be visited. These posters will be available in local shops/Post offices in the run up to Halloween. You can request a poster from your local NPT (click here for contact details) if you are unable to collect one locally."
A DATE FOR YOUR DIARIES: POP QUIZ
The annual pop quiz will be hald at the Parish Lantern on Sunday 14th December (start time to be announced). Proceeds are in aid of our excellent Youth Club. Test Yourselves on music from the 70s to the current day!
CLOCKS GO BACK 25th/26th OCTOBER
Don't forget to put your clocks back at around midnight on this coming Saturday night—or at 2.00 am on Sunday morning, if you insist on accuracy about these things!
WHITEPARISH FIRST RESPONDERS.
During the week of the 13th October, public sector workers throughout England were taking part in a campaign to alert the government about their pay and conditions. This involved some public sector workers—including a number in the NHS—initially going on strike for four hours, and subsequently working to rule.
Throughout that week, the Whiteparish First Responders (all of whom work), somehow rearranged their busy lives to provide cover for a large part of every day including late into the evenings, and 3 nights, making a total of 104 hours of cover. However, fortunately there were no emergencies for us to attend!
Jackie Hawker, Secretary (01794 884 127)
SWAB MEETING AND HEALTH EVENT, 13 Oct 2014.
The Southern Wilts Area Board will be holding a meeting at Trafalgar School, Downton, between 6.00pm and 7.00pm on Monday 13th October. For an agenda, click here.
However, for an hour before the meeting (5.00pm to 6.00pm) and an hour afterwards (7.00pm to 8.00pm) you can visit stands and displays about 19 different organisations or topics. These are: Adult Social Care, Age UK Wiltshire, Alzheimers Society, Carers Support Wiltshire, CCG Stand, Community First/Good Neighbours, Downton Friendship Club, Downton Leisure Centre, Downton Pharmacy, Healthwatch Wiltshire, Leisure-Active, Public Health - Health Checks, Public Health - Health Promotion, Public Health - Health Trainers, Ramblers, South Wilts Paths Group, Wilton Stroke Forum, Wiltshire Centre for Independent Living, Wiltshire Online.
URGENT: FOR VODAFONE USERS WANTING BETTER LOCAL COVERAGE.
We have been asked to publicise an initiative by Vodafone, and supported by local MP John Glen, aimed at improving Vodafone's coverage in rural areas; it goes under the name of the Vodafone Open Sure Signal Programme. (Even if you're not a Vodafone user yourself, if you have a friend or relative who lives in Whiteparish and complains about their Vodafone coverage, please mention this article to them.)
Here's a brief description from Vodafone:

"In rural and remote locations across the UK, the economic case for traditional networks can be challenging. This may be due to the geography of the area or difficulties with siting masts in places such as national parks and areas of outstanding natural beauty. Vodafone Rural Open Sure Signal programme uses 'femtocell' technology to provide a Vodafone 3G signal in areas where traditional mobile coverage has been unable to reach. About the size of a domestic broadband box and in a range of colours (white/grey/brown), the units use existing broadband services to deliver the mobile signal needed to provide 3G coverage, where before there was little or none. The units can be installed on any number of buildings including village halls, pubs, shops and homes across the community to ensure widespread mobile coverage . ,

We are encouraging communities to nominate a Village Champion to lead the application process and ensure that the community has a number of things in place before submitting their application form. These include ensuring the community has at least a 4MB broadband connection, which is essential as Rural Open Sure Signal units work from a broadband connection, to identifying 5-10 properties across the community, often on buildings on a hill or in a 'community hub', on which to site our boxes."
To see more information about the programme, you can download two Vodafone documents (a briefing and a sample application pack) by clicking here and clicking here, respectively.
Chris Dudley, who moved into the village quite recently, has kindly volunteered to be a contact point for people who are interested in this programme. So if you are a local Vodafone user and think you would like to contribute to getting the programme for Whiteparish, please click here to email Chris and indicate your interest. But reply quickly, because the village's application has to be with Vodafone by 14 October this year.
PARISH COUNCIL NEWS
In the notes from the Parish Council meeting on the 4th September, 2014, came the news that "Whiteparish has come 2nd in its category in the County Round of this year's Best Kept Village Competition, sponsored by Hills. The Council would like to thank all the villagers for their support and hard work in making Whiteparish such a lovely area. The judges commented that the new Memorial Centre was a great improvement on the old pavilion and the recreation ground was generally well kept. Villager's gardens were well tended and it was noted that the area around the pubs and shop were all very clean and tidy and there was no litter. We look forward to displaying 'your' certificate for second place in the County Round when it arrives!"
Other topics covered included a vacancy on the Parish Council, requests for volunteers for path clearing and work on The Copse, and news that there there had unfortunately been no volunteers for Neighbourhood Watch or to help with the Parish Weather Response Plan. For fuller details of these and other matters discussed, click here.
"SUPERFAST" BROADBAND NEWS.
At long last it seems that the infrastructure is in place to enable at least some Whiteparish residents to order fibre broadband packages from their internet providers. Evidence? Today (16/09/14) we heard from a villager who lives in Romsey Rd, maybe a half-mile from the exchange but pretty close to the nearest "green box", that his current provider had checked his landline for suitability and offered him a superfast broadband package. If you too are on the Whiteparish exchange and have been able to order a superfast package, we'd be really interested to know (roughly) where you live and what download speeds you expect to get; do please let us know.
This is good news but leaves some folk (especially those living still further out, like us) in the dark about when they too will be able to order superfast—and how "superfastness" might still be left at the end of a long stretch of copper wire!
AN AMBULANCE GOES TO SCHOOL





The photo shows the ambulance in question, members of the Whiteparish Community First Responders (back row) and the Year 5 pupils they were visiting at All Saints School on 16th July. For more information, and some more pictures, click here.
AUGUST 2014 CRIME REPORTS; and some good advice
The most recent reports from our Neighbourhood Policing Team suggests another quiet month on the local crime front, with just one crime listed in Whiteparish. However the report also includes some excellent advice on protecting outbuildings, as follows.
"Outbuilding security:
Outbuildings are being targeted more frequently by burglars. Here are some tips to ensure that the buildings are as secure as possible.
Structure. Are there loose slats or patches of rot on your shed or outer building? Consider getting these repaired as quickly as possible and think about reinforcing them from the inside.
Visibility. Are tools and other desirable items visible from the outside of the outbuilding? Bear in mind that these tools could be used to gain access to other areas of your property.
Insurance. Keep a note of all serial numbers and any distinguishing features of the items within your outbuildings. This is important for identification should your items be located. Does your insurance cover the contents of your outbuilding?
Alarms/Lighting. Consider looking for alarms and lighting to illuminate your property."
To read the detailed report, click here.
PAVILION THEATRE TICKETS SCAM ALERT!
There are currently (8th September 2014) some very convincing-looking emails being distributed which purport to be from BH Live Tickets, with an attachment which the email claims contains e-tickets for pantomime performances at Bournemouth's Pavilion Theatre. These have nothing to do with the existing online leisure outfit bhlive.co.uk, They are phoney and sent out by scammers. If you receive one, then unless you are actually expecting tickets from bhlive for the performances named, just delete it; and definitely don't open the zip file attachment.
BROADBAND: CONSPIRACY THEORIES ?!
Recently (late August 2014) there's been a lot of BT activity around the village's green cabinets, presumably and hopefully in aid of the promised "superfast" broadband; but unfortunately no word from BT yet about the latter being orderable. However, we've heard from several villagers in the past couple of weeks that their broadband speed has gone dramatically DOWN. A Highlands Way resident reports download speeds down from around 6 megabits/second (Mbps) to half that; Someone from the western end of the village reports "superslow" broadband download with download speeds in the 1.2 to 1.8 Mbps range and occasionally as low as 0.3 Mbps, and similarly poor performance next door.
Someone (no doubt tongue-in-cheek) mooted the possibility that this was a cunning ploy by BT to make superfast broadband seem even more superfast when residents finally start getting it installed! That's an interesting if cynical theory (!), but it seems more likely that getting the necessary superfast infrastructure installed at the exchange and cabinets is causing some temporary disruption to the current ADSL gear.
HOME MADE/HOME GROWN SALE
A very warm thank-you to all who helped at this event, especially Denise and John, Pat, Michael and Pat, Margaret, Sue, Dawn, Anita, Sid and Rita and to all those who so generously contributed their delicious cakes and jams, their lovingly crafted sewn goods and the great array of veg. It was a pity more people didn't turn up to support the event, but we made £455 towards maintenance and new equipment for our Memorial Centre and it was a very friendly occasion.
Gill Bray
WHITEPARISH LEISURE ACTIVITIES.
As we enjoy the remains of our summer, our thoughts turn to the months to come.
The Memorial Hall is not, as yet, being utilised to its full capacity. Now is the time for some community minded villagers to get together to run activities in the hall which, together with it's modern kitchen, can be rented for just £10 an hour. Perhaps an art class or table tennis, arts and crafts, a men's club, a whist or bridge club. Some of these activities would be especially suited to meeting in the mornings or afternoons, as some folk are not keen on turning out at night.
All it needs is a few people willing to donate an hour or two of their time to make it happen. So don't just sit there wondering what to do. Give me a ring on 884882 and we can get things moving.
Colin Bray
LOCAL CRIME FIGURES IN JULY
The monthly summary of reported crimes for Whiteparish and neighbouring areas in July 2014, forwarded by PC Henry Clissold show a single crime in Whiteparish for July 2014 and another relatively quiet month elsewhere in the area, with Winterslow having the most (three) crimes listed in the categories that are included in these reports. PC Clissold also records goodbye and good wishes to "invaluable asset" PCSO Steph Dutton, who is leaving the Alderbury team for pastures new. To see the July summary, click here.
BEST-KEPT VILLAGE COMPETITION.
(From the report of the July 2014 Parish Council meeting): Congratulations! Whiteparish has come 1st in its category in the first round of this year's Best Kept Village Competition. Comments from the judges include "The private gardens in the village were generally well cared for and there was very little sign of litter there or in the public spaces" and "Judges were impressed by the feel of the village, the community activities for all ages, and the generally high standard of care and congratulate all those who help to make Whiteparish such an attractive place".
NEWS FROM THE PARISH COUNCIL.
At the Parish Council meeting on 10th July 2014, topics covered included the councillor vacancy arising from Mrs Anne Baker's resignation; financial assistance to two local organisations; and the village's good early results in the 2014 Best Kept Village competition (see separate story above). For the meeting notes, containing more information on these and other items discussed, click here.
In addition, three other documents provide extra information, some of which relates to items discussed at the meeting, which you can view or download by clicking on the following links:
Garden Waste Kerbside Collections
Weather Response Plan
Neighbourhood Watch.
LOCAL CRIME FIGURES
The latest monthly crime figures for Whiteparish and neighbouring areas, forwarded by PC Henry Clissold show no crime in Whiteparish for June 2014 (or at least, none in the categories that are included in these reports). Looks like a relatively quiet month elsewhere n the area, too, with Landford getting the worst of it. To see the June summary, click here.
SUPERFAST BROADBAND STATUS (contd . . ,)
According to the Wiltshire Online website, Whiteparish has now moved from "Surveying Now" status to "Installing Now", in terms of getting our upgrade to so-called "superfast" broadband. Has anyone in the village actually reached the stage of being able to order the new technology for their home? Or still better, being able to use it? Do please let us know—especially if you think you are, or were, the first!
2014 FLOWER & HOBBIES SHOW.
A date for your diaries: Saturday 23rd August, when the Garden Club will be organising this year's Flower & Hobbies Show in the Memorial Centre. For those who have mislaid their July edition of Steeple & Street or who don't subscribe to it, you can view the schedule (classes) for the show by clicking here.
2014 FETE, 21st June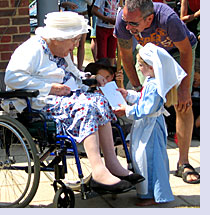 Our annual Fete was yet again blessed with fine weather (can't remember the last time we had a rainy one). Visitors seemed well up with other recent years, and everyone was having a good time. The photo shows Mrs Marjorie Andrews, 98 years young, presenting a fancy-dress prize to Martha Ball (towards the other end of the age spectrum) in the Pre-school and Owls category. Despite being almost as old as the Fete's theme of 100 years, Mrs Andrews was remarkably spry, declaring the fete open and presenting the fancy-dress prizes. And she clearly enjoyed meeting the prizewinners. For more photos, click here.
Unfortunately other commitments prevented us photographing as wide a spread of subjects at the fete as we would have liked. If anyone else took quite a few shots of different situations there, and can help fill in the gaps, please do get in touch. Ditto if you managed to photograph all the perfomers at the Bands Night the previous evening—especially if you can name all the acts. Finally, if anyone knows the make and model of the motorbike on the left of the BMW, one of us would like to know!
MEMORIAL CENTRE OFFICIAL OPENING: PHOTOS
We have added a new photo gallery to the website, showing the official opening of the Memorial Centre and visit by HRH Prince Richard, Duke of Gloucester, on 3rd June 2014. Thanks go to Stuart McWilliam for providing the photos. To see the gallery, click here.
2014 FETE: BOOKS, BOTTLES, CAKES, and TICKET SELLERS WANTED!
Here are some requests for help and/or contributions for the fete:

For the Country Kitchen:
"The Fete signs are up, so it is time once again for all cake bakers to use their culinary skills. Whiteparish folk—let us show The Great British Bake Off what we can do and celebrate with at least 100 cakes on June 21st! Please bring your contributions to the marquee on the morning of the Fete. Thank you."

For the Bottle Stall
Please bring bottles for the fete to the school, or drop off with Jane Legat at Alderstone House, Dean Lane, not later than 5.00pm on Thursday 19th June.

Books and DVDs Wanted
Please bring any books and/or DVDs for the fete to the school, from Monday 16th June; or deliver to the Memorial Centre from 9.00am on the morning of the Fete.
Selling Draw Tickets
If you can help, please contact Jane Legat on 884600, or email her at this address.
POLICE NEWS
PC Henry Clissold, our assigned Community Beat Manager, writes as follows: "I am currently on recuperation duties following some minor surgery to my hand. Rest assured that I am keeping an eye on things from the relative safety of the office until I am allowed out again. There appears to be a rise in the number of shed breaks over the last month; as the weather improves thieves know that all the lovely garden machinery you own will be out and being used so may not be as well hidden and secured as during the Winter months. DON'T make it easy for them!"
For the monthly list of selected local crime reports issued by the Southern Wiltshire Policing Team, covering May 2014, click here.
MEMORIAL CENTRE: NOW "OFFICIALLY" OPEN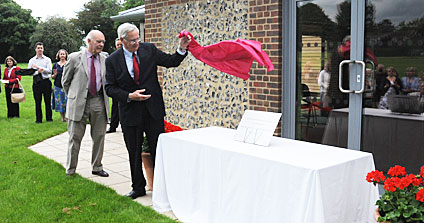 Accompanied by Memorial Trust chairman Sid Roberts, HRH Prince Richard, Duke of Gloucester, unveils the commemorative plaque with a practised hand (and some panache)

Though our new Memorial Centre has been in use since early in the year, any project as important as this one was should have an official opening ceremony, too, and on 3rd June the trustees were very pleased to welcome Prince Richard to "do the honours", accompanied by Mrs Sarah Rose Troughton, Lord Lieutenant of Wiltshire.
The guests arrived by car from Wilton, and after being greeted by the trustees they toured the centre, met representatives of many village organisations, and enjoyed some refreshments. Last item on the agenda was for HRH to unveil the plaque and officially declare the hall to be open, after a short and entertaining speech. Then Prince Richard's party were whisked away by helicopter, to much excitement from the children on the Memorial Ground.
There will be more pictures, and probably some more words, on the website very soon.
PARISH COUNCIL NEWS
At their meeting on the 21st May, 2014, parish councillors elected Trevor King as Chairman, and Mike Hayday as Vice Chairman; and councillors were elected to various other roles within the Parish Council and the community. Details are available on the Parish Council page; to see them, click here.
Other topics covered included what happens (or rather doesn"t) when groups apply for financial aid but don't send a representative who is able to discuss the application to the relevant Parish Council meeting, the need to cut back overhanging vegetation, dog mess, and and how to report potholes etc now that the old "Clarence" contact number is being phased out. For fuller details of these and other matters discussed, click here.
2014 FETE: FINAL DETAILS (PROBABLY)
The final details of the fete and other happenings during "Whiteparish Week" are now available on the website. For a printable MS Word document to keep as a reminder, click here. To see the same information on the Fete page, click here.
As most of us will know already, the theme of the 2014 fete is "100 years ago". The fete committee are very pleased that a "true" Whiteparish person of a remarkable age will be opening the fete on the 21st June. This special guest is Marjorie Andrews, formerly of Cottage Farm, who at 98 years is almost as old as the fete theme and apparently is really excited about her role on the day! To read a little more about Marjorie, click here.
OFFICIAL OPENING OF MEMORIAL CENTRE: 3rd JUNE
Now that the Memorial Centre building work is complete, and the landscaping very nearly so, the trustees of the Memorial Trust are pleased to announce that the Centre will be officially opened on 3rd June 2014 at 3.30 pm by HRH Prince Richard, Duke of Gloucester, who will be accompanied by the Lord Lieutenant of Wiltshire: Mrs Sarah Rose Troughton.
Everyone is invited to the Memorial Ground to watch Prince Richard unveil a plaque to commemorate the opening. Nominated represntatives of user groups will be able to meet the Prince as he tours the building. Please come along and help the trustees to mark the event!
WELL-ATTENDED DEFIB DEMO
On Tuesday 29th April, the Whiteparish First Responders were delighted to welcome 24 villagers to our Defibrillator Demonstration and Open Evening in the Memorial Centre's Cowesfield Room. The evening was well received, and we hope to make this an annual event, but if you would be interested in attending another evening in 6 months time instead, please get in touch with Jackie Hawker, on 01794 884127.
For a full report, with photos, click here.
LOCAL CRIME REPORTS FOR APRIL, 2014
The latest set of crime reports suggest that April was a relatively quiet month in the localities covered, unless you lived in Landford which suffered a spate of burglaries. Just one burglary in Whiteparish (though of course any crime is distressing for the household involved). Also, we always have to remember that the reports list only a selection of crimes in the month concerned, and certain categories of crime are not included. For details, click here.
PARISH COUNCIL NEWS.
At the Parish Council meeting on the 3rd April 2014, among the topics discussed were a change of litter policy from Wiltshire Council, whereby apparently it's now acceptable to put dog waste in ordinary litter bins; and an advisory, also from Wilts Council, that on 27th May Newton Lane is scheduled to be closed between the A36 and the junciron with Hop Gardens for various kinds of road works to be carried out. For more on these, and other topics discussed, click here.
EASTER HOLIDAY RECYCLING
There will be no change to normal recyling and waste collection arrangements on account of the Easter Bank Holiday. Plastic bottles and cardboard + black bin recyling collections will take place on Good Friday (18th April); and household waste and garden waste coollections (where applicable) on Friday 25th April.
2014 FETE NEWS
Here are some notes from the Fete Committee meeting on 3rd April:
The competitions for this year's fete are on the theme of "100 years ago", to be staged as usual in the church, are as follows:
| | |
| --- | --- |
| Key stage 1 | Picture or collage |
| Key stage 2 | Model |
| Key stage 3 | Poem |
| Senior school | A letter to or from the trenches |
The entries will need to be displayed by 4pm on Friday 20 June please, ready to be judged that evening.
Please check in Steeple & Street for details of the bottle stall collection. The date of the next meeting is 15 May – 7.15pm in the Parish Lantern.
LOCAL CRIME IN MARCH.
The most recent set of crime reports for Whiteparish and 12 other neighbouring areas suggests that March 2014 was a fairly quiet month, with just 12 selected incidents listed. There was just one incident (drug possession) listed for Whiteparish, while once again Old Sarum seemx to have suffered most. According to the report:: "A worrying spate of garage breaks in the Old Sarum area need to be treated as a timely reminder for residents of all areas to look at the security of their garages and sheds. Are they locked? Are expensive items on show? Is property post coded? Take the time to do these things now before it is too late."
For details, click here.
WILTSHIRE HOUSING SITE ALLOCATIONS DEVELOPMENT PLAN
Wilts County Council Planners are looking for comments/representations about the proposed scope of the above Development Plan Document (DPD), for which the six-week consultation period ends on Monday 5th May 2014. They are also asking landowners to notify them of any land that can be considered for site proposals. More information is available on the council's website, so for more detail, click here. (For other planning-policy-related documents on the Council site, click here.)
"SUPERFAST" BROADBAND STATUS
Apparently, according to a Powerpoint chart shown by a BT representative at the 27th March SWAB meeting referenced below, BT's Superfast Broadband is still on track for installation in Whiteparish this summer. This will be of the fibre-to-the-cabinet and copper-to-the-premises variety. (The necessary cabinets are yet to be installed.) When we get any more details we'll put them on the website. If anyone else gets any new news (or even new rumours or speculation), please let us know. At the moment the big unknown—certainly for those of us living some distance from the exchange—is how distance from the cabinet may affect (ie reduce) performance, compared with the improved speeds seen by people fortunate enough to live near a cabinet.
FIRST RESPONDERS: DEFIBRILLATOR DEMOS.
The village is very lucky to have a Community Public Access Defibrillator at the Parish Lantern, and so it makes sense to show everyone what the defibrillator looks like, and how very easy it is to use. The Whiteparish First Responders invite everyone in the village to a demonstration and training session in the Memorial Centre at 7.30 pm on 29th April 2014. For more details, click here.
KINGS HEAD IN DANGER AGAIN?
As many will probably already know, the Kings Head seems to be under threat of closure again. If you would be sad to see this happen, please sign the petition opposing closure in the village shop or the pub.
[A Personal View: Since the Kings Head re-opened last autumn, we have called in several times for a meal or a drink, and been impressed by the way that after a relatively short time in charge (but loads of work), Mark and Michelle turned the old place around—with decent food, a much nicer atmosphere, customer numbers increasing, and plans for improvements in the garden. We understand that recently they've been turning a profit.
But unfortunately Mark & Michelle will be leaving soon, and rumour has it that the KH may be closed altogether in the near future. If it was the perfectly good business that it seemed to have become—well run, and back on the up-and-up—closure would be both regrettable and hard to understand. D & J H]
PARISH COUNCIL NEWS.
On 6th March 2014 the Parish Council met in the Memorial Centre for two meetings: the Annual Parish Meeting and a regular council meeting. At the Annual Parish Meeting, there were five members of the public present, and the council handed out a PC Annual Review. Members of the public had questions about potholes, warning signs, and whether the Parish Council could help with saving village pubs. To see the Parish Meeting Notes, click here.
At the regular PC meeting that followed, topics discussed included the newly completed surfacing work on Common Road, the Best Kept Village competition, missing road signs on Newton Lane, and the Community Speedwatch initiative. For more details, click here.
SWAB MEETING, 27 MARCH, to cover "BIG ISSUES".
The next meeting of the Southern Wiltshire Area Board (SWAB), starting at 7 pm on Thursday 27 March 2014, will be held in Morgan's Vale and Woodfalls Village Hall. Apparently the board, who always welcome members of the public to these meeetings, will be discussing what they call "Big Issues", which will include Superfast Broadband in the area, and Sainsbury's Salisbury Gateway proposal. For a sight of the agenda, click here.
2014 FETE NEWS
The Fete Committee write as follows:
Great news ! there was a good turnout for the committee meeting on 13 March. We do still need folk to come forward to go on rotas for various tasks—from helping with teas, to setting up and clearing away. If you think you can help (the more names we have, the less time you need to give), then please get in touch.
There has been a great response to the request for sponsorship and prizes—again, if you think you can help, please let us know. The less money we have to spend in hiring marquees etc, the more we can give to the church and school.
A reminder: the theme for this fete is "100 years ago". Put your thinking caps on for ideas for the children's fancy dress competition. Details of that and other competitions to be staged in the church will be announced later.
Sophie Sharpe is the chair of the committee and can be contacted through the school.
LOCAL CRIME.
The most recent set of crime reports for Whiteparish and 12 other neighbouring areas lists a total of 23 selected incidents during the month of February 2014. As many as eight of these were in Old Sarum, while Whiteparish suffered just one: an unsuccessful burglary. (Remember that some categories of incidents, including violence and/or reports of domestic disputes, are not included in these monthly bulletins.)
For details, click here. (We guess that the "bales of hale" nicked in the first Laverstock crime were probably of hay, though the original has a nicer ring to it.)
HISTORY GROUP: VENUES FOR MARCH & APRIL 2014 MEETINGS
The March 20 meeting of the History Group, with a talk by Peter Saunders on "Salisbury's Medieval Water Courses and their Legacy", will be at 7.30 pm in the King's Head function room. The April 17 meeting will combine the AGM with a talk by Diana Goetz on "The Life and Times of Thomas Hardy", and will be at 7.30 pm in the Memorial Centre.
SWAB/"OUR COMMUNITY MATTERS"
The current version of the "Our Community Matters" website for southern Wiltshire (an initiative that arose from the county Area Boards scheme) includes a number of interesting articles and features. Perhaps the most significant is a list of 10 priority subjects (such as stronger communities, housing, etc) identified during a recent Southern Wiltshire Area Board (SWAB) meeting in Downton. SWAB's next step will be to place these subjects in priority order at their meeting scheduled to be held in the Morgan's Vale and Woodfalls Village Hall on 27 March, starting at 7.00 pm.
For more details, click here to go to the "Our Community Matters" website.
COMMON ROAD SURGERY: LUNCHTIME CLOSING.
Please note that from 1st March 2014 the Surgery will be closed between 1.00 pm and 2.15 pm each day. This is to enable the doctors and staff to complete administrative tasks and to hold meetings. However, the telephone lines will remain open (01794884269).
LOCAL CRIME.
PC Henry Clissold has sent us the most recent crime bulletin, covering January 2014. (Apparently there was a glitch in sending out one or two reports previous to that, hence a gap in the reports on the website. If we get any missing ones we'll upload them.) Once again, January seems to have been a fairly quiet month in the area overall. There were no reported incidents in eight out of the 13 local areas covered by these reports, but there were three for Whiteparish. For details, click here.
2014 FETE: HELPERS STILL NEEDED.
It seems that more helpers/supporters are still needed for this year's fete. The committee write as follows:

"It's been said before and no doubt will be again, that if a good village fete is to be held this summer more people need to come forward to "own" some of the jobs. The next committee meeting will be on [Thursday] 13 March at 7.15pm in the Kings Head. Please do come along and register your support. You will not be required to turn up at every meeting, but the existing members need to know what help is out there in order to plan the event.
The school and the church benefit hugely from funds that are raised and hopefully village residents think it an event worth saving.
John Dunlop (Church) Sophie Sharpe, Andrew Perry and Natalie Gross (school ) Sue King (village)"
20 FEB HISTORY GROUP MEETING TO BE IN KINGS HEAD.
The History Group meeting on Thursday 20th February 2014, starting at 7.30 pm, will be held in the Function Room of the King's Head, where Peter Preen will be giving a talk on "The Life and Achievements of T.E. Lawrence". For the subjects of other meetings in the first half of 2014, and reports of past meetings, click here to go to the History Group page.
JANUARY PARISH COUNCIL MEETING
At what sounds like a rather roads-dominated meeting on 16 January, topics discussed by the Parish Council included upcoming resurfacing plans (necessitating a temporary closure of Green Close for a day or so in March), car parking problems in Common Road, winter damage to our minor roads, Community Speed Watch, and some financial assistance to the Badminton Club. For more details, click here. The next meeting, at 7.30 pm in the Memorial Centre on Thursday 6th March, will be the Annual Parish Meeting, followed by a routine Parish Council meeting. If you want to raise any village matter but can't be present at the meeting in person, please inform any councillor, or the clerk—contact details can be found by clicking here.
AREA BOARD MEETING AT ALDERBURY
Just a late reminder that the next meeting of the South Wilts Area Board (SWAB) is scheduled for 7.00 pm on 30th January, in Alderbury Village Hall. For a sight of the agenda, click here.
MEMORIAL CENTRE: SOME INTERIOR PHOTOGRAPHS
As mentioned in the next item, the Memorial Trust held their AGM on 25th January, and for the benefit of anyone who was not able to attend and would like some idea of the interior rooms and amenities, we took some photos. These include shots of not only the areas that were open for viewing on the day, but also the changing rooms and associated amenities. However, not all areas were covered.
To see the photos in the website's Galleries section, click here.
MEMORIAL CENTRE: AGM
On Saturday 25 January, Trustees of the memorial Trust held the AGM - the very first meeting in the new Memorial Centre. Besides the Trustees there were 48 members of the public and after having a look round the new building, the AGM started with the Chairman's report.
Sid Roberts, Chairman described the past year's activity - which mainly related to the construction of the building. He also took the opportunity to thank many people who had contributed to the project over the years - some living and some no longer with us.
Sid finished by encouraging people to use the new building - a facility of which the whole village can be proud.
Linda Palmer, Treasurer, then presented the Accounts for the past financial year. Again the key items of expenditure related to the construction project. Linda advised the meeting that once all the bills have been settled, Trustees will prepare a summary of income and costs for the whole project - that will be circulated across the village, as Trustees have done with previous communications. [To see the regular progress reports that the Trustees have issued in the last year or so, click here. ]
Members of the public were invited to ask questions and many took the opportunity to ask about specific aspects of the project and about how the building will be operated going forward. The new caretaker was introduced — Sid Twine — and people had the opportunity to chat to Sid after meeting.
Trustees are holding an 'open afternoon' on Sunday 2 February 2 till 4pm so that anyone can come and look round the building. Trustees will be on hand to provide tea and biscuits and answer any questions.
2014 FETE.
Fortunately, two more kind folk joined the committee at the last meeting! So it now seems possible to organise both the Friday Bands night and the Saturday fete.
It was decided the theme for this year should be "100 YEARS AGO". This will give quite a broad range of choices for the intended fancy dress competition. Details of the competitions which are displayed in Church will be confirmed at a later date – so watch for the updates in future magazines and on the village website.
Members of the committee will be attending the Trust AGM to see how best to use the new hall and surrounding space for the fete layout.
If you feel you can help in any way, but are not able to regularly attend committee meetings, please contact any of the following:

Sophie Sharpe, Natalie Gross and Andrew Perry (school)
John Dunlop (Church)
Sue King (Village)

The next meeting will be in The Kings Head on Feb 6 at 7.15pm
MEMORIAL CENTRE NEWS.
Unfortunately several problems caused by contractors and suppliers not turning up on time, or bringing the wrong kit, etc, meant that the new Centre wasn't quite ready for handover to the trustees before Christmas 2013, as had been hoped. However it is now hoped that the building and the outside areas will be ready for handover by 24th January, just in time for the Trust AGM to be held in the Centre at 10.00am on Saturday 25 January. The trustees say: "Do come along; you'll be able to take a quick look around the new building, although the trustees will be offering that opportunity again at the end of January.

Trustees are very conscious of the disruption in the Memorial Ground car park and around the area in general. We would like to thank the whole village for their patience and tolerance during the construction. We hope that you will agree: the building will have been worth the hassle."
Meanwhile, if you can't wait for the 24th and haven't had the chance to look for yourselves, we've added a few extra photos to the website gallery of external views of the construction of the new centre. They take the record up to early January. To see them, click here.
16 JAN HISTORY GROUP MEETING TO BE IN KINGS HEAD.
The History Group meeting on Thursday 16th January 2014, starting at 7.30 pm, will be held in the Function Room of the King's Head, where David Pantling will be giving a talk on "Bridges in the Old City of London". For the subjects of other meetings in the first half of 2014, and reports of past meetings, click here to go to the History Group page.
COMMISSIONER CONSULTING ON POLICE & CRIME COUNCIL TAX ELEMENT.
Angus Macpherson, the Police and Crime Commissioner (PCC) for Wiltshire and Swindon, is consulting on the police and crime element of council tax for 2014-15. The Commissioner is considering an increase in the police and crime element of council tax of £3.15 a year for the average home (band D property). This to help reduce the impact of significant central government grant reductions on policing and crime services in Wiltshire and Swindon.
Commissioner McPherson explains the need for an increase in a little more detail in a press release, which you can read by clicking here. The consultation period runs from 6 January to Monday the 3rd of February, 2014. During that period, the Commissioner and members of his staff will be attending Area Boards around the county to discuss the proposed increase with members of the public. You can also give your views via the Commissioner's website: click here.
PARISH COUNCIL NEWS.
At their 12th December meeting, topics covered by the Parish Council included the Neighbourhood Plan, Dog Fouling, the aspiration to extend Doves Lane, the Parish Precept, and continued discussions on HGVs using our minor roads and lanes. For more information on these, click here.
WASTE & RECYCLING COLLECTIONS IN JANUARY 2014.
The following are the early-January collection dates as rescheduled due to the Christmas and New Year holidays:

Monday 6th January: Household waste.
Saturday 11th January: Plastic, cardboard, and Black Box recyeling.
Friday 17th January: Household waste; Garden waste (for those receiving this service); note this is the first garden waste collection in January.
From 17th January onwards, collections are back on the usual schedule of alternate Fridays.
PARISH COUNCIL NEWS.
At their 14th November meeting, topics covered by the Parish Council included horses being ridden on pavements (they shouldn't be), Speed Indication Displays (SIDs), signage for the new Memorial Centre, the use of Newton Lane, Miles Lane, and Dean Lane by HGVs. For more information on these, click here.
IMPROVING YOUR "NON-DWELLING" SECURITY.
PC Henry Clissold writes: "Please note [this] press release from colleagues in Salisbury which gives some useful crime prevention advice relating to break-ins to sheds, garages and outbuildings. Our local villages haven't been targeted quite so heavily (as yet) but I thought it would be a useful reminder to review your security arrangements." To see the press release, click here.
FOOTBALL NEWS.
The Whiteparish Saturday and Sunday teams are doing well at the moment, both having won six league matches out of 10 at the time of writing. After an uneven start to the season, the Sunday side in particular are really on a roll, recently winning six matches in succession. If you want to support Whiteparish FC in the run-up to Christmas, the Saturday side are playing at home (on the Memorial Ground) against Stockton and Codford Reserves on the 7th December and a Morrison Cup match against South Newton & Wishford on 14th December; kick-off at 1.30 pm for both matches. (Both of the Sunday team's fixtures during the same period are away matches.)
JANE SCOTT TO ATTEND 5 DECEMBER SWAB MEETING AT DOWNTON.
Councillor Jane Scott OBE, Leader of Wiltshire Council, will be attending the next South Wiltshire Area Board meeting at Downton Memorial Hall (on 5 December, starting at 7.00 pm), to speak and answer questions. (Bearing in mind the largely critical comments that have appeared recently in the local press about pay and/or allowance rises for councillors and top Wilts council officials, that could be an interesting session.) For more about the agenda, click here.
If you'd like to subscribe to be kept up-to-date with the local community news and events involving South Wilts, Salisbury, or other areas of Wiltshire, click here.
FIREWORKS FOLLOW-UP.
The 2013 Fireworks Display was not only a terrific show, it raised a magnificent £6150, of which £500 went as a donation to the new Memorial Centre, and the rest to All Saints School. The Fireworks Display is the biggest fundraiser that the School PTA are involved in during the year, and the PTA Fireworks Committee say "The school will make good use of the money raised [which] will help towards contributions to school trips, pay for IT equipment, books, classroom equipment, and many other things to enhance the children's school experience . . . a huge thank you to everyone for making this event the success it is, and we look forward to seeing you at the display next year."
KING'S HEAD RE-OPENED.



Nice to see the lights on again

With some other village landmarks disappearing for ever, we were pleased to notice one evening recently that the King's Head was lit up and back in business; now hopefully reprieved from the threat of redevelopment. In an email, Rob Phillips (part-owner) expressed the hope that those who had mourned [what had seemed to be] the pub's passing would now like to drop by to check out the improvements and spend some time and money there! Well, if Whiteparish could once have supported four (even five) pubs, we should be able to go back to supporting three, shouldn't we? Welcome back to "The King's"!
BEST FIREWORKS YET?
Well, the spectacular 2013 Annual Fireworks display on Saturday 9th November, staged through the generosity of Messrs Pains Fireworks, must have at least rivalled the best of past years, and possibly surpassed them. The temporary venue behind the Parish Lantern was a revelation—a natural amphitheatre which meant that everyone had a good view, however far back they were. Excellent organisation and stewarding by the Whiteparish School PTA (the school benefits from the takings), seasonal catering (hot dogs and hot drinks including mulled wine) all contributed to a really enjoyable show. It seemed very well attended, too, and we hope to publish figures for attendance and funds raised soon. In the meantime, you can see a short video clip of the very end of the show by clicking here.
LOCAL CRIME IN OCTOBER, 2013
A relatively quiet month for crimes in Whiteparish, with just two thefts reported. But it seems the light-fingered fraternity were concentrating their efforts elsewhere, with a total of 13 incidents reported in Landford and Laverstock. For more details, click here.
BROADBAND FOLLOW-UP.
As most Whiteparish folk will probably know by now, Whiteparish is in the second batch of mostly rural communities in Wiltshire to be scheduled for so-called "superfast" broadband (see earlier story further down the page by clicking here). However the relevant press release distributed on 23 September was not very specific about some aspects of this, notably timings and coverage, and we've tried to get some clarification from the BT press office.
BT refer to the launch of superfast broadband in a community as "rollout", which for Whiteparish is scheduled for summer 2014. Rollout here will apparently mean "installing one or possibly two fibre cabinets and the associated cabling work etc to connect up (we have to run fibre cable from the exchange to the new roadside cabinet)". This didn't seem a lot of cabinets, bearing in mind the widely spread area served by the Whiteparish exchange, so we asked whether, with the coming of fibre, superfast broadband would be orderable for all households who currently have a Whiteparish landline. The answer was "The overwhelming majority will be able to get high speed fibre. However, we will have a much better idea once all the planning and survey work is underway. I think the message to your readers is to keep in touch with [their] service providers and the GWB website for further info".
So that's as much as we know right now, and it probably isn't worth badgering BT for more detailed info at the moment. Guess we'll have to be patient! However, if anyone gets any later and/or more authoritative news about these points or any other aspects of fibre broadband here, please let us know and we'll be pleased to share it via the website.
ANNUAL FIREWORKS, 9th November 2013 .
Don't forget to add the evening of 9th November to your diary, and to get your tickets (available from the village shop) in good time. For details (cribbed from one of those very tickets), see panel above.
PARISH COUNCIL NEWS.
Items discussed at the Parish Council's meeting on 3rd October 2013 included community speed watch, CATG funding, overhanging vegetation, and CLARENCE reporting. For more information, click here.
LOCAL CRIME.
After being away from the office with an injury for a few weeks, PC Henry Clissold writes to reassure us that he is now "back and fighting fit.", and to caution us that "We have an exciting month ahead of us with Halloween and Fireworks nights fast approaching. Please be a good neighbour and keep an eye on each other to ensure that both of these dates pass off without incident."
He also attached the latest local crime bulletin, which seems to have been a fairly quiet month in the area overall, though there were two workshop burglaries in Whiteparish. For details, click here.
GOODBYE TO THE VILLAGE HALL.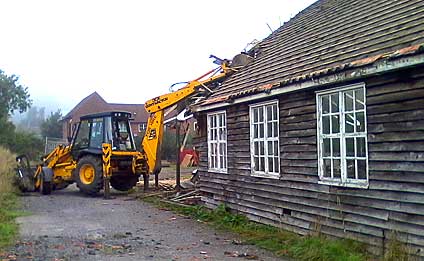 Another "old friend" has gone, to join the pavilion. The Village Hall was finally demolished on the 7th October 2013, having served the village well for something like 85 years since it was first built with a legacy from Lord Melchet in 1928. (Two new 4-bedroomed family houses are to be built on the site.)
Many thanks to Mike Thorne for contributing the photo of the JCB starting to munch through the far end. To quote Mike: "It sounded as if the the digger was eating giant cornflakes, and it made very short work of reducing the old wooden building to matchwood". Many thanks too to Mel Oakley for contributing three photos taken while the digger was completing its work later on the same day.
So quite sad, really, but the construction of the new Memorial Centre will soon be finished, to replace both the hall and the pavilion. We've added a mini-gallery including the photos from Mike and Mel, and two or three other "before and after" shots, which you can see by clicking here.
WILTSHIRE RESIDENTS' SURVEY.
If Wilts Council know your email address, you may already have received a "Personal Invitation" from Council Leader Jane Scott, to take part in an online survey aimed at getting the views of Wiltshire residents on a number of topics. It apparently takes only about 15 minutes, and covers our local area, council spending, lifestyle, community safety, environment, local health priorities, and an "about you" section. If you haven't completed the survey yet, you can go to the relevant page on the Council website by clicking here. The survey closes at the end of October.
HISTORY SOCIETY PROGRAMME CHANGE.
Please note that the talk by Don Cross, scheduled for 21st November 2013, has been replaced by a talk from John Levesley on "New Forest Airfields at War". Time (7.30 pm) and venue (All Saints School) are unchanged. To see the whole winter programme, click here to go to the history society page.
VICTORIAN BENNETTS IN WHITEPARISH.
We have received an email from a Will Stevens, asking if anyone here knows anything about the Bennett family who lived in Whiteparish for a while in the late Victorian period: in particular John Bennett and Ann Bennett who were buried in All Saints churchyard in 1884 and 1888 respectively. To see Will's email in full, click here. To see the Bennetts' gravestone, click here.
If you can help Will with his enquiry, his email address is willgrstevens @ gmail.com (delete spaces around the @.)
STRONG START FOR SATURDAY FOOTBALL TEAM
It's been a very good start to the season for Whiteparish's Saturday team. Playing in the Salisbury & District (Saturday) League Division 1, they've already notched up three wins out of four, to put them third in the table.
The Sunday team, playing in the Salisbury & District (Sunday) League Division 2, are not doing quite so well with one win so far, but there's plenty of season left. Sunday 6th October they'll be playing a local derby on the Memorial Ground against Alderbury; so if you're free at around 10.30 am, why not turn up and support them ?
A ROOF OVER THEIR HEADS . .. .



Just a little photographic update to the picture a couple of stories down: By the third week in September, the new Memorial Centre roof was covered, and mostly tiled. This should let the contractors working on the interior walls, floors, fittings etc really crack on—without being dripped on!
GOOD NEWS RE BROADBAND!
A press release just received from the so-called "superfast broadband partnership" (of BT, Wiltshire Council, and South Gloucestershire Council) brings the great news that Whiteparish is one of the next six communities in the Wilts/South Gloucs area to be "in plan" for installation of fibre broadband. Don't know at the moment just how we got to be included, but well done to any villagers who registered their interest via the BT website. It can't have done any harm, and may well have helped.
To see the text of the press release, click here. You will see that the according to the release, Whiteparish households will be able to order the faster broadand as from summer 2014. It's not clear at the moment if this means they'll just be taking orders, or if it will actually be possible to get connected as from then. (Have asked the press office for more details on this.)
2013 FLOWER & HOBBIES SHOW PHOTOS.
As promised, we've added a photo gallery of this year's show to the website. All the photos were kindly sent in by Keith Hobbs, who has captured some nice "people shots" as well as giving a good impression of the quality of the exhibits. It's interesting to see the effect of the diffused and kind of wraparound light that you get when photographing in a polytunnel (kindly provided by Messrs Courtens in this year of making do without the Village Hall). To see the gallery, click here.
MEMORIAL CENTRE.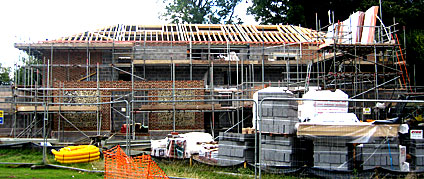 As you can see, the new Memorial Centre construction is progressing well, with the main walls all completed up to roof level, the roof timbers in place, and the under-roof insulation about to be added. This is one of the many photos currently in the website's photo gallery, showing progress since last year. To see the gallery, click here.
For information about a 4-day period of possible traffic restrictions in Common Rd (and presumably parking restriction at the Surgery), see panel above.
CONGRATULATIONS! . . .
. . . to Whiteparish Cricket Club First XI who amassed the points needed to gain promotion to County Division 4 for next season, in their final league match this season against Parley on 31 August. (Unfortunately losing their unbeaten record for this season in the process, but who cares?!) We understand this takes Whiteparish into their highest-level league ever, certainly in the recent past. Roll on cricket at County League level next year, on the new pitch and with the equally new changing facilities in the Memorial Centre! To read more about this milestone for the Cricket Club, click here to go to the club's own always entertaining website.
For some icing on the cake, Whiteparish beat Sherfield English in the annual inter-village cricket match for the Doug Dugard Memorial Shield a couple of weeks beforehand.
2013 FLOWER & HOBBIES SHOW.
The Whiteparish Garden Club's annual show was held on Saturday 24th August, opening at 2.30 pm, at Courtens Garden Centre, who had kindly agreed to host the 2013 show while we are short of a village hall. Bearing in mind the unusual circumstances, entries and attendance held up pretty well, and we hope to have the usual photo gallery prepared fairly soon. In the meantime, you can view the schedule by clicking here.
PARISH COUNCIL NEWS..
Topics covered at the 15th August 2013 meeting of the Parish Council included a Whiteparish Neighbourhood Plan; a search for volunteers for Community Speed Watch; Community Area Transport Group grants, Wiltshire Council's CLARENCE scheme, and a temporary closure of Moor Lane, starting on 23 September. To learn more about any of these, click here to see the meeting notes.
HISTORY GROUP: 2013/2014 PROGRAMMME.
The Whiteparish History Group's programme for September 2013 to May 2014 is now available on the History Group page, with the usual well-balanced mixture of topics related to our immediate area, our region, and more general subjects. To check it out, click here.
WHAT'S ALDERBURY GOT THAT WHITEPARISH HASN'T?
There could be all kinds of answers to that question, but one of them is a promise of "superfast broadband" (or SFB, for short). It was recently announced in the local media that both Alderbury and Downton have been selected by BT for priority installation of SFB. So where is Whiteparish in the SFB stakes? Well, not quite as bad as we used to be, but still not good. A BT website shows we've just crawled up from the bottom category of NC, or "Not currently in rollout plans", to tne next-to bottom category of UE, or "Under Evaluation, Exchange upgrade being evaluated as part of a government-funded programme", along with 1044 other communities nationwide. The last-but-one of five status categories.
One doesn't know exactly what this means. Are BT deciding whether to do anything at all for Whiteparish? Or deciding what level of upgrade we might get, with the possibility of getting some inferior technology solution that's a bit better than what we've got now, but nothing like so good as the really neat stuff our neighbours have been promised?! But if you are interested in Whiteparish getting the fastest practicable broadband (even if you personally are not especially fussed about it), then going to the relevant BT website to register your interest could help. If you haven't already done this, please do it now by clicking here and following the "Register your interest" link.
NEW MEMORIAL CENTRE PHOTO GALLERY.
We've added a new photo gallery in the Galleries section, which mostly shows progress on the new Memorial Centre since construction got properly under way in early spring 2013. We hope to add to this over the next few months. This is the first photo gallery we've produced using a new software package (see next story). To see it, click here.
NEW-LOOK PHOTO GALLERIES.
Until now we've been using some home-brewed software for photo galleries on the website, but the limitations of this have been increasingly obvious recently and we are moving to something a bit more capable: a package called Highslide, which is free for use in noncommercial websites. One big advantage is that it adjusts the image size to the window it's being displayed on, so hopefully galleries produced from now on will be more usable on tablets and smartphones. We've noticed one or two snags with it, but overall it seems much better than what we had before. If you notice any serious disadvantages, please let us know.
The first new-look gallery features the construction of the new Memorial Centre. To see it, click here.
AREA BOARD MEETING AT ALDERBURY, 1st AUGUST.
From Tom Bray: "The next [Southern Wilts] Area Board meeting will take place on Thursday 1st August at Alderbury Village Hall starting at 7pm. We have 2 major agenda items. Our local highways team will be coming along to talk about the new way of working in the area. We will also debate the themes that the Area Board will focus on during 2013/14. The Board will also decide on funding applications from a new boxing club starting up at Downton's Trafalgar School, a new play park in Odstock and assistance for the Memorial Hall's new boiler."
To see the agenda and reports, click here. To check out the "Our Community Matters" website, dealing with happenings in the Southern Wilts area, click here.
2013 FETE PROCEEDS.
Despite a slightly dodgy weather forecast, and being held in the much smaller arena of All Saints School (necessitated by the ongoing Memorial Centre building work making the Memorial Ground unavailable), the 2013 Fete and associated events raised a magnificent £5600 for All Saints Church and School, outdoing the amount raised by the same events in 2012. Well done to everybody concerned!
DOES ANYONE HAVE ANY FETE PHOTOS?
Unfortunately the website staff had to be elsewhere on fete day, so we weren't able to take any fete photos for the website. Keith Hobbs has helped us out in recent years by contributing a lot of the photos in previous fete galleries, but Keith also had to miss the fete this year. So, does anyone have some fete photos they could let us use? Or photos taken at other Whiteparish Week events? If so, please get in touch!
PARISH COUNCIL MEETING, 11th JULY 2013.
July's Parish Council meeting, held in All Saints Church, included news of a "pseudo footpath" under consideration, to run from the Memorial Ground car park to the school; also the fact that in the future Whiteparish-related planning applications will be considered by the whole Parish Council, and the possibility of more frequent council meetings. For more on these and the other topics discussed, click here.
LOCAL BURGLARIES.
PC Henry Clissold wrote on 19th July: "Within the last 24 hours we have had two burglaries in our area, these have been during the day whilst the houses are unoccupied. Can I take this rather unfortunate opportunity to remind people to keep their homes secure. Make sure those windows are secured closed, it is better top come home to a hot stuffy house than a burgled house.
Burglars will be opportunistic and in this hot weather they know that windows are left partially open and a lot of first floor windows are left completely insecure, please don't make it easy for them."
For the monthly report of local crimes that occurred during June 2013, also forwarded by PC Clissold, click here. (The text of the report mentions crimes "from 1st to 30th May", but we think that should actually read June.)
[THANKS TO] THE PEOPLE OF WHITEPARISH.
We recently received the following "thank you" to the Whiteparish folk concerned, from Mr Steve Old:
"On the evening of Friday 28th June 2013 my daughter and I were involved in a minor Road Traffic Accident whilst driving towards Romsey along Romsey Road Whiteparish, no one was hurt but the cars involved were damaged and barely drivable. I would like to extend my sincere thanks to all the residents and passers-by who showed concern and offered assistance to us. It made a bad situation bearable to know that there were so many kind and caring people around that we could have called upon if required. The offered use of mobile phones that could get a signal, land line for longer calls to insurers and recovery firms were accepted and meant we got home a lot earlier than we thought we would.
Could you kindly publish this online or in print on my behalf? I did not take the names of the people involved but they will know who they are.

Many Thanks.
Steve Old"
SWAB JUNE NEWSLETTER
To view this newsletter from the South Wilts Area Board (SWAB), click here.
POLICE & CRIME COMMISSIONER LAUNCHES £1 million Innovation Fund.
On 7th June the PCC for Wiltshire and Swindon, Angus Macpherson launched a £1 million Innovation Fund. The Commissioner is looking to fund community and voluntary initiatives throughout Wiltshire and Swindon which will help towards achieving his six main priorities as set out in his Police and Crime Plan. Mr Macpherson said: "I am really excited about launching this £1 million Innovation Fund and making this money available to projects on the ground that can make a real difference to communities."
The Commissioner's six main priorities, working with communities and partners, are to:
Reduce crime and anti-social behaviour
rotect the most vulnerable in society
Put victims and witnesses first
Reduce crime and anti-social behaviour
Drive up standards of customer service
Ensure unfailing and timely response to calls for assistance
Mr Macpherson added: "This fund is about supporting innovative new ideas which will make a lasting difference to community safety and I'm particularly interested in projects that help to break cycles of crime and anti-social behaviour, including supporting repeat offenders."
For more information and contact details, you can see the rest of the press release by clicking here.
LOCAL CRIME DURING MAY
May saw reported crimes locally well up from April's 53 reported incidents, with Whiteparish "top scorer", unfortunately. Considering the list as a whole, PC Clissold writes: " . . . you will see that reported incidents were 74 which is an increase from last month; there were 36 reported crimes. Our non crime incidents were 38 this month which makes pretty similar reading to previous months. There have been some great results this last month including three suspected burglars arrested [in Whiteparish] with some stolen property still in their possession, this was only possible after eagle eyed villagers called us and a quick response from colleagues meant we got a good result."
To see the May summary, click here.
SWAB MEETING, 6th JUNE
The 6th June meeting of the South Wilts Area Board (SWAB) will be held at Morgans Vale and Woodfalls Village Hall, starting at 7.00 pm. The agenda will include election of a Chairman and Vice Chairman, presentation of reports, a discussion of what the Area Board should be concentrating on (this is the item allotted most time on the agenda), and consideration of applications for Community Area Grants. To see the official notice of the meeting, including links to the full agenda, which in turn has links to a number of other interesting-sounding documents, click here.
MORE ON THE LOCAL CRIME FRONT.
We hear that three individuals were spotted recently behaving suspiciously in the Common Road area, and police arrived in good time to detain them for questioning. And in the same week, a staddle stone was removed from a garden in the East of the parish. Perhaps these incidents will find their way in to the next official crime report.
PARISH COUNCIL AGM
The Annual General Meeting of the Parish Council was held on 9th May 2013 in the Village Hall. Among other business, Trevor King and Peter Kidman were elected Chair and Vice Chair respectively, two councillors were co-opted onto the council, the possibility of more frequent meetings was discussed, and it was agreed to support Wiltshire Council in the matter of upgrading the path at Doves Lane to improve access to the school. For more details of the meeting, click here. An updated list of council members and their responsibilities will be available on the Parish Council page shortly.
ROGUE TRADERS
PC Henry Clissold has forwarded a warning from Hampshire trading standards about dodgy driveway merchants very recently operating close to our area. This was actually happening around Totton, but they could easily move their operations up the road, and the warning contains some good advice:
"Rogue Traders are currently cold calling/leaflet dropping in the Totton and surrounding area of Hampshire offering to block-pave driveways. They are starting work without consent and not providing any paperwork to identify who they are, where they operate from and details of your right to a cooling off period. Trading Standards would advise consumers not to agree to work that is instigated as a result of a cold call or via a leaflet drop. Consumers should obtain at least 3 written quotes from reputable businesses or trader. Traders who agree work at the home of an individual or at a place other than their usual business premises are required by law to provide consumers with a Notice of Right to Cancel, which gives consumers a 7 day cooling off period. Work should not commence until this period has ended, unless written agreement is obtained from that consumer beforehand."
For further information or advice, contact Wiltshire Council Trading Standards office in Trowbridge, or the Citizens' Advice consumer helpline on 08454-040506.
RECENT CRIME REPORTS
Due to a slight glitch in the website's editorial dept (ahem) a couple of months' worth of local crime reports didn't get added to the site when received from PC Henry Clissold; so we're putting that right. In February 2013 there were no reported incidents in Whiteparish, which makes a pleasant change, and it seems to have been a quiet month in several of the neighbouring parishes, too. However for the sake of completeness we've included the report, which you can see by clicking here. In March, unfortunately, things were back to normal with Whiteparish "equal first" with Laverstock with six reported crimes, including three burglaries. April saw us with more reported incidents (five) than any of our neighbours, including thefts of scrap and oil. For March's report, click here; For April's, click here.
To help protect yourself against being the victim in one of these incident reports, see also next story, with advice from a Crime Prevention Officer on protecting your shed and its contents.
SHED SECURITY
With brighter days and warmer weather, thoughts turn to the garden and all that needs to be done outside. Garden sheds are particularly vulnerable to thefts, as their structure can be flimsy. Protecting your garden equipment can also increase the security of your home as garden tools can be used to gain access to your property. A good closed shackle padlock, with an alarm if it will be heard, is a good starting point, but it must be secured to a good quality hasp, fitted with a back plate and with the screw heads disabled. Back plates should also be fitted to the door hinges and any brackets, and their screw heads disabled. If your shed has a window, fit some wire mesh on the inside or board it over if it is not necessary.
Marking your tools to make them identifiable as yours with bright paint or scratching your postcode on them will make them less desirable to steal. Any equipment with a serial number should be registered with Immobilise.com. Chaining large items together makes them difficult to remove. If possible, more expensive items should be stored within a locked garage or inside the home.
BAT WALK !
Wiltshire Council Environmental Services have organised a Bat Walk ("looking and listening for bats; bat detectors will be provided") to take place in The Copse, Highlands Way, at 8.45pm on Friday 24th May. The cost will be £2 for adults, and £1 for children and concessions; under-fives are free. Those attending should have appropriate clothing and footwear. Please note that booking is essential, and you can book or find out more by contacting: Wiltshire Council, Environment Services, Rights of Way & Countryside, County Hall, Trowbridge, Wiltshire, BA14 8JD, by post (presumably) or telephone (01225 718647) or email (countryside@wiltshire.gov.uk). Children under 16 must be accompanied by an adult.
PARISH COUNCIL NEWS.
Councillors John le Quesne and Malcolm Adams are stepping down from the Parish Council in early May 2013 by not seeking re-election. For Councillor le Quesne it marks the end of 18 years service, some as Vice Chairman. As noted at the Parish Council meeting on 18th April, Cllr le Quesne's wealth of knowledge serving the Parish Council and the community has been very much appreciated. Both councillors were thanked for their input and support.
Consequently, there are two vacancies on the Parish Council which will be filled by co-option. If you are interested, please contact the Parish Clerk. For her contact details, and a summary of other topics covered at the 18th April meeting, click here to see the meeting notes.
Change of AGM Date: Please note that the Parish Council AGM, originally scheduled for 23 May 2013, will now be held on 9th May, in the Village Hall. Also that from then on, until the new Memorial Centre is built, Parish Council meetings will be held in All Saints Church.
SWAB BRIEFING PAPER ON CCGs
Richard Britton and Tom Bray of the Southern Wiltshire Area Board (SWAB) have put together a question-and-answer briefing paper about the new medical Clinical Commissioning Groups (CCGs). If you want to find out more about this important recent development in the structure of the NHS, this briefing paper might be a good place to start: click here.
ANNUAL MUSIC FESTIVAL, April 2013
The inaugural Whiteparish Music Festival, including three separate concerts held in All Saints Church during early April, was evidently a great success both in terms of the quality of the music presented and the funds raised, which amounted to over £2000 to help with church running costs. For a fuller account, click here.
ELECTIONS.
On May 2nd 2013 there will be local elections for Wiltshire Council and Parish/Town Councils. If you are interested, please have a look at the Elections page on the Wiltshire Council website: click here.
SWAB INVITES APPLICATIONS FOR COMMUNITY GRANTS.
Tom Bray of the Southern Wiltshire Area Board (SWAB) has written to invite applications for grants for community projects in Whiteparish. According to Tom you can now apply to SWAB "in a few clicks", using their new online system. To view Tom's email, which includes links to further information on this and other SWAB programmes, click here.
ANNUAL PARISH MEETING REPORT.
The Annual Parish Meeting was held on 7th March 2013, and you can read the meeting notes by clicking here.. It was immediately followed by a regular Parish Council meeting: click here for the notes.



AND THE ANSWER TO THAT QUESTION? At the time of writing (end-March 2013) we don't know when or even IF Whiteparish will be included in the much-trumpeted rollout of fibre connections (or faster ones, anyway) for rural exchanges in Wilts and Gloucestershire. Whiteparish is among a big cluster of phone exchanges in south Wilts and neighbouring areas of Hampshire (including Romsey, to which our exchange is connected via a "spur"), that are in BT's "NC" category, meaning "Not Currently in Rollout Plans".
If your house is more than about half a mile from the Whiteparish exchange, you're probably already dissatisified with download speeds, and not being able to watch video clips etc without having to wait during buffering delays. Even if your broadband speeds seem fast enough for your current needs, they soon won't be.
We don't want Whiteparish to be left behind, or left out altogether, once BT get their act together. They need to know that there's a lot of demand here for up-to-date broadband speeds. So PLEASE PLEASE PLEASE click here to go to the relevant BT web page, where you can find out the latest situation by entering your Whiteparish postcode. And then folllow the links on the page to REGISTER YOUR INTEREST. As BT say, "If we get enough demand in your area it might mean that we can add it to the rollout plans.": Registering your interest costs nothing and doesn't carry any obligation, but it just might help Whiteparish to start to catch up with the high broadband speeds that are already commonplace in some parts of the country.
BRITISH SUMMER TIME BEGINS . . .
. . . officially at 2.00 am on Sunday 31st March, so don't forget to put your clocks forward an hour on Saturday night !
NO SPECIAL RECYCLING/WASTE REARRANGEMENTS FOR EASTER
Guess this counts as a non-story (!) but although it's a four-day bank holiday weekend, Easter this year apparently has no effect on the Friday collections, which will take place on the scheduled Fridays throughout March and April.
MEMORIAL TRUST PAGE
Following the merger of the old Memorial Ground Trust and Village Hall Trust, and the consequent creation of the new Memorial Trust, the Memorial Trust now has its own page on the website, accessible via the "Organisations" submenu or by clicking here.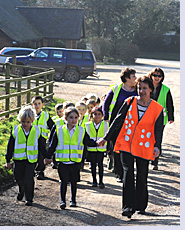 ALL SAINTS SCHOOL VISITS THE MEMORIAL CENTRE SITE. On Tuesday March 5th, the youngest class at Whiteparish All Saints Primary School visited the Memorial Ground to see the site of the new Memorial Centre, where they were joined by some interested grown-ups (including Memorial Trust members and Parish Councillors) for a few photos to be taken by Salisbury Journal photographer Tom Gregory . Work was soon to recommence at the site after a day or two's delay (due to a problem with the digger), and a couple of days later the work of demolishing the remainder of the old pavilion had been completed, and the rubble all removed.

Tom Gregory's photo appeared on the front page of the 7th March 2013 issue of the Journal. For some other pictures of the visit, click here.
MEMORIAL CENTRE FUNDING.
Just a reminder: If you'd like to make a donation towards the cost of the new Memorial Centre, click here for an explanation of why donations are needed, and a printable donation form. More information about the project can be found on the Memorial Centre page: click here.
NEW SWAB-AREA WEBSITE
A new website has been launched, apparently under the auspices of (or with connections to, anyway) the South Wilts Area Board (SWAB), called the "Southern Wiltshire Our Community Matters blogsite". It seems to be intended for sharing information about matters of interest throughout the SWAB area, and includes an interactive notice board. To take a look, click here.
COMMENTS WANTED ON DRAFT POLICE AND CRIME PLAN
Claire Woods of Wiltshire Police has written on behalf of Angus McPherson, the Police and Crime Commissioner for Wiltshire and Swindon, requesting views on his draft Police and Crime Plan. Unfortunately there's not much time left, because the closing date for comments is Sunday 10th March. (Our fault—Claire's first email about this somehow disappeared from our mailbox.) Anyway, to quote Mr McPherson, the plan: "is an important document and I strongly encourage people to log on to [our website] to read the draft plan and leave comments." To go to the plan, click here.
GOODBYE OLD FRIEND . . .





. . . . At least, that's how many villagers must feel (including us) to see the old pavilion on the Memorial Ground coming down, to make way for the new Memorial Centre. Photo was taken on Saturday 23rd February 2013, so presumably the building will have been completely dismantled by early the next week.
"TREASURE ISLAND" PANTOMIME PHOTOGRAPHS
The Galleries section of the website now includes photos of the Pepperbox Players' recent brilliant staging of "Treasure Island", taken during the Friday 1st February performance. We hope to have more to say about this thoroughly enjoyable evening soon, but in the meantime if you'd like to see the photos (of the last panto to be staged in the old Village Hall), click here. There are also some cast photos on the News and Events page.
This year we've also provided a page where you can display the panto photos in an extra-large format, for people with big computer screens. You can go to this page by clicking here; or you can try out both pages to find which format is best for your screen. (There's a link towards the top of each page to let you switch to displaying photos in the other format.)
LOCAL FOOTPATHS INITIATIVE
Activity days are planned over the next few months for local volunteers to help with footpath improvements in several surrounding villages: Winterslow, Downton, Alderbury, the Grimsteads, and West Dean. (There's no mention of Whiteparish in the info we've seen so far, but perhaps we'll be added to the programme later?) Anyway, to find out more, click here, or call Tom Bray on 01722 434252.
POLICE CRIME REPORTS FOR DECEMBER 2012 AND JANUARY 2013
Accompanying the latest crime reports, PC Clissold of our local Neighbourhood Policing Team writes: "A quick glance [at the reports for January] will reveal further reductions from last month, this month does show some criminal damages in the Alderbury area, having looked at the incidents they do not appear to be linked from the investigations carried out.

Please do continue to report suspicious vehicles seen around our villages, help us build a picture to crack down on these individuals.
The snow didn't cause us too many problems, the only advice I try to pass to motorists to have a safe journey during the ice and snow is anticipate, anticipate, & anticipate!"
For the December crime reports, click here. For January's reports, click here.
FARMWATCH NEWSLETTER FOR JANUARY 2013
For the latest newsletter from Wiltshire Police's Rural Crime Team, with some interesting advice, commentary, and statistics for recent rural crimes in the county, and some year-on-year comparisons between 2011 and 2012, click here.
SWAB NEWS
The last scheduled meeting of the South Wilts Area Board (SWAB) before the elections in May will be held in Winterslow Village Hall on 31st January, at 7.00 pm, so it will be a good chance to catch up on the progress of the Area Board and hear about important issues in Southern Wiltshire. For the full agenda on the Wiltshire Council website, click here. For the latest SWAB newsletter, click here.
PARISH COUNCIL: ANNUAL PARISH MEETING
Villagers are invited to attend the Annual Parish Meeting at 7.30 pm on Thursday 7th March in the Village Hall. The public of Whiteparish are welcome to raise any village matter at this meeting. If you are unable to attend but wish to raise any village matter, please inform the Parish Clerk or any councillor.
For notes of the Parish Council meeting held on 17th January 2013, click here.
WHITEPARISH MEMORIAL TRUST AGM.
The Memorial Trust AGM and a follow-on meeting were held on January 19th in the Village Hall. For a report of the proceedings, including the make-up of the trust and the officers elected, click here.
The next meeting will be held at 7.30 pm on Thursday January 31st, in All Saints Church; members of the public are welcome to attend.
TALK ON CLARENDON PALACE.
The History Society have scheduled a talk that should be of particular local interest for their 21st February meeting (7.30 pm in the King's Head), where Dr Cindy Wood will be speaking about The Royal Palace of Clarendon Park—a Recent History. Non-members £3 on the night. For notes on the History Society's page about some other talks presented during the past year or two, click here.
PARISH COUNCIL NEWS.
At the 6th December meeting of the Parish Council, Peter Kidman was co-opted as a new councillor. Other items discussed included problems with Common Road, Dean Lane, and ongoing improvements to Miles Lane. For more information on these and other topics covered, click here. For an updated list of councillors, see the Parish Council page.
WASTE AND RECYCLING COLLECTIONS, CHRISTMAS AND NEW YEAR.
As a result of the 2012/2013 Christmas and New Year holidays, waste and recycling collections are rescheduled as follows:
Household waste (black wheelie bin): Monday January 7th; then back to normal fortnightly Friday collections as from Friday 18th January.
Black box recycling and blue-top wheelie-bin recycling: Monday 31st December; Saturday 12th January; then back to normal fortnightly Fridays as from Friday 25th January.
Garden waste collections (if applicable): No January collection until Friday 18th January; then back to normal Friday fortnightly collections.
CRIME REPORTS FOR NOVEMBER 2012 .
PC Henry Clissold has sent the latest monthly crime reports (another quiet month, happily), and writes: "As you will see another good month for the area, the number of reported crimes has fallen again although there is a slight rise in the number of incidents attended.
Some news that may not have reached everyone yet, Sgt Dean Garvin has been successful in his promotion to substantive sergeant and has moved on to a new position in Salisbury Custody department, He has been our sergeant for two years and will be missed greatly and I am sure you will echo my thanks to him for his time with us. He will be replaced in January by Sergeant Dave Lennane who will take the reins of Alderbury and Wilton stations, I will ensure Sgt Lennane joins us at some Parish Council meetings and coffee mornings so you will get a chance to meet him."
To see the November reports, click here.
PARISH COUNCIL NEWS.
The report of the 8th November Parish Council meeting includes two items relating to the new Memorial Centre: the election of three trustees for the Whiteparish Memorial Charity; and the Council's planned application for a loan clearance from the Public Works Loan Board, just in case there is a funding shortfall. For more on these and other topics covered, click here.
FASTER BROADBAND (sometime, maybe . . .)
As you may have read elsewhere, Wiltshire has joined with South Gloucestershire in a joint initiative to introduce faster broadband technologies, and on 9th November 2012 the two authorities announced that British Telecom has been chosen as the preferred bidder in "one of the country's most advanced broadband developments". The rollout of the new technology under this programme is due to be completed by 2015. What still seems uncertain is which communities will get what kinds of improvements (if any), and when, within that timeframe.
From a telephone enquiry to Wiltshire Online, it seems that BT will be largely responsible for formulating initial plans about who gets what, and that they will be giving a first indication of the results of their deliberations during the first quarter of 2013. According to the Wiltshire Online website, "The aim is for a minimum of 85% of premises across the GWB area (90% in each local authority area of Wiltshire, South Gloucestershire and Swindon) being able to access superfast broadband, over 24Mbps, by 2015 and all other premises to have a minimum access line speed of 2Mbps."
So will we in Whiteparish be among the lucky 90%? Looks like we won't know until early next year. But if you're keen that we get 24+Mbps broadband here as part of the rollout, it wouldn't do any harm to contact Wilts Council or BT from time to time to enquire how plans are progressing. We don't want BT to be able to claim they'd had no indication of interest from Whiteparish, and to use that as an excuse for leaving us behind !
SUCCESSFUL 2012 FIREWORKS DISPLAY.
This year's display, held on the Memorial Ground as usual, made a creditable £5400 or so for Whiteparish All Saints School. For more about this, and some photos, click here.
SWAB HAVE MONEY TO GIVE AWAY (again).
The South Wilts Area Board are once again looking for applications for small funding grants from groups or projects working with young people in the area. The next deadline for applications for this "Youth Money" (their phrase) is 3rd December (but a little confusingly the latest SWAB newsletter also mentions a deadline for applications on 7th January—this may be for a different kind of grant?). Anyway, you could probably find out more by going to the next SWAB meeting, at Coombe Bissett Village Hall, 7 pm, on the 29th November. To see the current SWAB newsletter, which has more about this, plus footpaths and kissing gates, and volunteer awards, click here.
LOCAL CRIME IN OCTOBER 2012.
It seems October was another quiet month for crime in Whiteparish and our neighbouring areas, at least as far as the crime categories that appear on our Neighbourhood Policing Team's latest report are concerned. (Certain categories of crime, such as domestic violence, are not included in these lists.) Some of the items stolen make sad, puzzling reading, though: a weather vane, an ornamental cat, horse jumps? Do the thieves take this stuff for their own use, or to sell at car boots or down at the pub? And if it's the former, what satisfaction can there be in displaying an ornamental cat that you've nicked? Oh well, for the full report, click here.
ASH DIE-BACK DISEASE.
The Forestry Commission have written to the Parish Council with advice about how to identify ash die-back disease (chalara), and what to do about it. The main symptoms are: dead branches; blackening of leaves which often hang on the tree; and discoloured stems, often in a diamond-shape, where a leaf was attached.
If you see these symptoms, please double-check them at the website (www.forestry.gov.uk/chalara); and report them to the helpline: 08459 335577.
To help stop the disease spreading: before visiting other places, clean mud and leaves from footwear, pushchairs, bikes, cars, dogs and horses; and do not remove leaves, plants or wood from this area.
DODGY EMAILS Pretending to come from Vodafone.
There is currently a rash of infected emails being distributed which appear to come from Vodafone, with the subject line "you have received a new message", and starting with the text "You have received a picture message from mobile number +44[some numbers]. To save this picture, please save attached file."
DON'T try to save the attached zip file, or open it. It contains a malicious .exe file (for details from the Cisco website, click here). Spammers are getting very clever at creating plausible-looking "malware" that looks as if it came from a reputable source, and can find its way past spam filters. The only safe approach to dealing with unexpected emails containing attachments is "if in doubt, delete". If you're not sure, paste a line or two of text from the suspicious email into google. More often than not that will bring up a load of hits confirming that the email is spam, a hoax, or malware.
FLOWER SHOW EXHIBITS.
We've added a photo gallery showing entries in most of the classes in the 2012 Flower & Hobbies Show. Sorry about the delay in getting this onto the website, but hopefully better late than never . . . To see them, click here.

HALLOWEEN PRECAUTIONS. Wiltshire Police have sent out a package of information concerning %quot;dos and donts" for enjoying Halloween safely. For the full text of the accompanying press release, click here. For a poster like the thumbnail on the left, to place near your front door if you don't want to be "trick-or-treated", click here. And for a poster suitable for shops, click here.
LOCAL CRIME IN SEPTEMBER.
Happily things seem to have been quieter on the crime front in our area during September 2012, compared to the previous month, which must have been a relief to our neighbours in Alderbury and Laverstock. Four reported crimes in Whiteparish, though. For the full report from our Neighbourhood Policing team, click here.
PARISH COUNCIL NEWS
At their 27th September 2012 meeting, one item covered by the Parish Council was that the bidding process for the Village Hall site had been carried out and a bidder selected; the sale was in the process of being finalised. For the full notes, click here.
WILTSHIRE CORE STRATEGY.
Proposed changes to the Wiltshire Core Strategy Submission Document will be available for viewing via the Wilts Council website until the 1st November 2012. If you want to view and/or comment on these, you can register on the Consultation Portal: click here.
LOCAL CRIME IN AUGUST.
According to the local crime reports for August 2012, received from our local Neighbourhood Policing Team, Alderbury and Laverstock were worst hit, with two burglaries and a case of criminal damage in Whiteparish. For the full report, click here.
ARRGGHH—WHAT'S HAPPENING TO THE CRICKET SQUARE?!




Answer: it's just being moved a wee bit closer to the MUGA area, and rotated by 90 degrees, to allow room for the new Memorial Centre. Work started on 10th September, and by the 13th, the new area had already been grass-seeded. For some more photos, click here.
NEW POLICE NON-EMERGENCY NUMBER.
Hannah Barclay of Wiltshire Police has written with new information about the police telephone number we should ring for non-emergencies: 101. This replaces the old 0845 408 7000 number which will cease operation as from the end of September 2012. In a non-emergency, you should dial 101 if:
You want to report a crime/issue that does not require an immediate emergency response
You or someone else are not in immediate danger
You would like to speak to your local police officer
You want to provide information about a crime.
However it is important to emphasise that 999 is still the number when you want to contact the police in an emergency. To read the police press release on the subject, which gives more information about what constitutes an emergency, and some background about the change, click here. For a mini-poster in pdf format that you might like to print and keep or put by your phone (), click here. Alternatively, for a small reminder-type picture you might like to stick on the wall near your phone, click here.
FIRST BATCH OF FLOWER SHOW PHOTOS.
We've added some "people photos" taken at this year's Garden Club Flower & Hobbies Show, most of them kindly contributed by Keith Hobbs, to the Galleries section of the website. To see them, click here. Some shots of this year's exhibits will be joining them soon (sorry about the delay).
FOOTBALL CLUB WEBSITE.
Whiteparish FC now have their own website, which you can find by clicking here.
PARISH COUNCIL NEWS.
At the 16th August meeting of the Parish Council, councillors heard a presentation from Julie Stubbs of the New Forest Land Advice Service, which covered the Blackwater River and its tributaries and the problems caused by invasive Himalayan Balsam, as well as a Community Wildlife Project for which Whiteparish villagers would be welcomed as volunteers. Other topics covered at the meeting included a proposed new Right of Way from the A27 to Clay St, a possible loan to help with financing the Memorial Centre, and a Red Gateway (presumably not a real gate, but a road safety measure?) to be installed on the A27 at the "Romsey End" of the village. For more information, click here.
SWAB GIVING AWAY MONEY AGAIN . . .
. . well, not exactly giving it away, perhaps, but the South Wilts Area Board (SWAB) are looking for local projects that would be eligible for some of the £20,000 of funding they apparently have available at the moment. They also have a small fund available for helping projects concerning younger people, and this will be one of the subjects to be discussed at the next SWAB meeting, which will be at 7.00 pm on 27 September, 2012, in Pitton Village Hall. To find out more about what SWAB are up to, you can read their latest newsletter, including various links, by clicking here.
FIRST RESPONDER NEWS.
Although the Whiteparish Community First Responders had a relatively quieter period in July 2012, by the middle of August they had already attended 60% more emergencies than in the whole of August last year! They ask villagers to remember that if you call an ambulance and either a First Responder arrives, or the ambulance authority directs you to the Public Access defibrillator on the wall of the Parish Lantern pub, AN AMBULANCE IS ALREADY EN ROUTE. For more, click here.
FINAL FOLLOW-UP RE "PRODUCED IN WHITEPARISH" SALE.
Gill Bray writes to say "Well done, Whiteparish! I am very pleased to announce that the 'Homemade/Homegrown sale' on 4th August, raised the amazing sum of £861.97, which has now been handed over to the Memorial Centre fund. A really big thank you to all who made or grew things to sell, to those who helped on the day and before (too many to mention but you all know who you are), and especially to all who came to buy and enjoy a friendly occasion."

HISTORY GROUP PROGRAMME FOR COMING SEASON.
The Whiteparish History Group have what looks like a very interesting programme of talks etc at their monthly meetings from September this year to April 2013, with the usual well-chosen mix of subjects concerning our immediate area, our region, and more general topics. First up is a talk on September 20th (7.30 pm in the Kings Head) by Lt Commander Brian Witts MBE, about Whale Island in Portsmouth Harbour and its importance in the development of the Royal Navy from the 19th century to the present day. The full programme through to next spring is on the History Group page; to see it, click here.
WESSEX WATER AWARD FOR MEMORIAL CENTRE WORK.
The New Memorial Centre project has gained a "Wessex Watermark" award and a contribution of £450 from Wessex Water, for work on safeguarding the pond. The photo shows Parish Council Chairman Trevor King receiving the cheque and certificate from Sophie Crew, Area Scientist, from Wessex Water.
However, Trevor was by no means the only villager present. For another photo of the presentation showing (almost) all those who were there, and for a brief project update, click here.
LOCAL CRIME FIGURES FOR JULY 2012.
A very quiet month in our area, evidently, with the crime list half the usual length, and just a single burglaary in Whiteparish, with happily nothing stolen. For more detail, click here (note that some crime categories are excluded from these bulletins).
"PRODUCED IN WHITEPARISH:" Follow-Up.
This event on August 4th, one of a series of fundraisers for the new Memorial Centre, was well supported both by villagers contributing crafts and preserves and by those who came to buy. But best of all, the event has already raised at least £734 (a small part of this being gift aided, with some more still to come). A really good result.
FLOWER AND HOBBIES SHOW COMING SOON.
The Garden Club's annual summer show will be on Saturday 25th August in the Village Hall, with exhibits open for viewing from 2.30 pm. At the time of writing there's still plenty of time to get something ready to show. Entries will be accepted on the morning of show day; though to save time, you can collect entry cards between 6.00 and 7.00 pm on the previous evening from the Village Hall.
For the handicraft, art, and children's section categories, click here.
DAVID EAST DAY: Sunday August 19th.
Whiteparish Sports Clubs will be remembering the much-missed David East, also Doug Dugard, on Sunday, August 19th, with two specially arranged sporting fixtures. At 12 noon, there will be a soccer match between Whiteparish FC and Whiteparish Sunday FC, for the David East Trophy. This will be followed at 3.00 pm by a cricket match between Whiteparish CC and Sherfield English CC, for the Doug Dugard Shield. In this period when the cricket season is starting to wind down a bit (alas) and the soccer season hasn't got fully under way (and the Olympics are over), this sounds like an excellent day of local sporting entertainment!
Dr ESSIGMAN LEAVING COMMON RD SURGERY.
Sadly, Dr Martin Essigman has announced that he will be leaving his work as a GP and partner at Whiteparish Surgery this autumn to increase his involvement in the training of doctors. He writes in Steeple & Street: "It has been a privilege for me to be allowed to look after you and I have enjoyed the many encounters and consultaitons. I consider myself lucky to have had the opportunity to work in such a friendly and supportive environment and it is going to be very hard to say good-bue to you all."
MINERALS SITE ALLOCATIONS SUBMISSION LOCAL PLAN.
We have received an email from Wiltshire Council saying that the above-mentioned plan will be available for viewing and comment from early August 2012 to the end of December 2012. But to do so you have to be a registered "consultee". For more info, click here.
The WCC email said that information in it (in the email, that is) was confidential and should not be disseminated. However this warning seems a bit silly because there's nothing in the email that one couldn't find out by going to the "Consultation Portal" on the WCC website and registering there—so we've ignored it.
AREA BOARD DISCUSSING FOOTPATHS.
The next meeting of the South Wilts Area Board (SWAB) will be on 26th July at 7.00 pm in Alderbury Village Hall. The main theme will be "The next steps to improving our rights of way . . . ", as well as presentations and/or discussions on involving volunteers in improving residents' digital literacy, community grants, community safety, and a chance to have your say about local issues. For the full agenda, click here to go to the relevant SWAB web pages.
"PRODUCED IN WHITEPARISH" SALE, AUGUST 4th.
Don't miss the sale of home-grown and home-made products in the Village Hall, starting at 10.30 am on August 4th. There's more information on the event poster, which you can view/download by clicking here. All proceeds go towards the new Memorial Hall.
If you would like to contribute some produce or handicrafts to the Sale, you can bring them to the hall on the morning of 4th August from about 9.00 am, or leave them with Colin & Gill Bray, or Colin or Gill could collect if necessary. If you have any questions about the event, phone Gill on 884882.
CHAT WITH TOP COPS ON 23rd JULY !
We have been asked by Claire Woods from Wiltshire Police to publicise a public online chat scheduled for Monday 23 July 2012. On that day, Chief Constable Pat Geenty, Deputy Chief Constable Mike Veale and Police Authority Chairman Chris Hoare will be logged on from 7pm to 8pm to answer your questions.
At the last chat, topics raised included anti-social behaviour, traffic highways agency officers, Royal Military Police assisting Wiltshire Police as well as recruitment and career opportunities within the police service. For more information, including details of how the chat will be run and what type of questions will be approved, click here to visit the wiltshire police web site.
CHARITY COMMMISSION'S PROPOSED SCHEME FOR NEW TRUST.
The Charity Commission has sent a notice to the Whiteparish Village Hall and Memorial Ground Trusts about the the "scheme" (a legal document) for the new Whiteparish Memorial Trust that it is proposed should be formed by the merging of the two first-named charities. The notice gives details of how to access the scheme document on their website, where there is also a form for comments. To view or download the Charity Commission notice in pdf format, click here.
2012 FETE A REAL SUCCESS—CONSIDERING . . .
This year's fete, held on 16th June, took place in unpromising circumstances. Although it was mid-June, it was cold, weather forecasts on preceding days had threatened downpours, and even the forecast on the morning of fete day suggested we'd be lucky to escape at least some rain. And on top of that, the Hog Roast and Bands Night on the previous evening, always a heavy fund-raiser, had clashed with one of England's Euro 2012 matches. So it was very gratifying to have so many people turn up to these events despite these unpromising omens. We gather that the Whiteparish Week events together raised over £4000, with maybe some more still to come. A very good effort in the circumstances. (As it happened, the rain did arrive on fete day, but not until right at the end !)
For some photos of the fete, click here.
FIRST RESPONDER NEWS.
The Whiteparish Community First Responders (CFRs) have been very busy recently, attending a host of medical emergencies in and around the village. In addition, they were delighted to see a community public access defibrillator (cPAD) for the village installed outside the Parish Lantern, which was officially commissioned on 21st June. For photos of the commissioning, and other CFR news, click here.
PARISH COUNCIL MEETING, 28 June 2012.
At their June meeting, the Parish Council saw a presentation by Steve Ibbetson of Wiltshire Council Environmental Services. And it seems they are looking at the possible installation of more "kissing gates" on footpaths around the village. (In case you're hazy about what these are, Wikipedia says: a type of gate which allows people to pass through, but not livestock.) For more information on the topics covered, click here to see the meeting notes.
HAPPY BIRTHDAY, "SPOTTY"
| | |
| --- | --- |
| | Happy actual birthday, we mean, because it was his "noughth" birthday, having been born, just within the parish boundary, early on June 27th. The photo was taken in a neighbour's field on the same afternoon, and he's already trotting round happily with Mum. Don"t know what his real name is, or will be, but he is spotty. |
LOCAL CRIME FIGURES FOR JUNE 2012.
Only a couple of reportable crimes in Whiteparish in the latest bulletin from PC Clissold. Something of an epidemic of shed thefts elsewhere in the area, though, and a smashed window in the Alderbury Police Station (a bit foolhardy, one would have thought!). For more detail, click here (note that some crime categories are excluded from these bulletins).
POLICE AND CRIME COMMISSIONER INFORMATION WEBSITE
We have been asked to include the following text on the website:
An information site about the election of the first ever Police and Crime Commissioner for Wiltshire has been launched. The Wiltshire Police Authority's website now includes details about the role and responsibilities of the forthcoming Police and Crime Commissioner and how they will be scrutinised. The site also includes a timeline highlighting key dates in the transition from Wiltshire Police Authority to the Police and Crime Commissioner, details about the election, a news section and links to useful documents and other websites for potential candidates. To visit the site, click here.
Much like the existing police authority, the Police and Crime Commissioner will be responsible for overseeing Wiltshire Police on behalf of all residents in the Force area. They will represent people living across Wiltshire and Swindon. Elections for Police and Crime Commissioners take place on Thursday 15 November 2012. There will then be a formal seven day transition period before the commissioner takes office on Thursday 22 November. The Wiltshire Police area Police and Crime Commissioner will replace Wiltshire Police Authority, the group of 17 councillors and independent members who currently oversee Wiltshire Police.
WASTE SITE ALLOCATIONS.
The Consultation Period for Wiltshire Council's proposed waste site allocations ends on 19th July 2012. If you want to see supporting documents, and/or register in order to make representations about the "soundness" of the proposals, you can see the relevant Consultation Portal page on the Wilts Council website by clicking here.
2012 BEST-KEPT VILLAGE COMPETITION.
According to the Parish Council 2012 AGM notes, Whiteparish has again been entered into this competition. And judging is imminent ! So take special care to try to keep the village spruced up and tidy !
PARISH COUNCIL AGM, 24 May 2012.
At the Parish Council's AGM for 2012, the Chair (Trevor King) and Vice Chair (John Le Quesne) were re-elected to their roles, and councillors were re-elected to various roles within the Parish Council. Among several other topics covered there was also a discussion, raised by a villager attending the meeting, about safety concerns re children walking or being driven to All Saints School, and about the condition of Common Road. For more information, click here to see the meeting notes.
JUBILEE BEACON EVENT.
To help commemorate the Queen's Diamond Jubilee, the Clarendon Team churches organized for a Beacon to be lit on Dean Hill on the evening of 4th June (by kind permission of David and Juliet Seal). This well-attended event was a lot of fun, and was co-ordinated with the lighting of similar beacons all over the country. For some photos, click here.
JUBILEE PICNIC AT ALL SAINTS SCHOOL.
Despite the not-very-promising dull, damp, and cool weather, there was quite a good turn-out for the "Celebration, Praise, and Picnic" at Whiteparish All Satins School on 3rd June. There's a smashing group photo of the event, taken by Roger Elliott, in the June 7th edition of the Salisbury Journal, and a few somewhat less professional snaps that you can see by clicking here.
LOCAL CRIME FIGURES FOR MAY 2012.
A small upturn in the local crime figures for May, compared with the previous month, according to the latest list received from PC Clissold. Only a couple in Whiteparish, though. For more detail, click here (note that some crime categories are excluded from these bulletins).
LAST NIGHT OF THE PROMS CONCERT.
This very enjoyable concert, in the Village Hall on Saturday 19th May, raised a magnificent £1403.55 towards the new Memorial Centre ! ! So a big thank you for everyone involved: performers (the Millstream Orchestra, with All Saints' Church Choir and Music Group), organisers, and audience. There are some photos on the website, which you can see by clicking here. You can also get a flavour of the evening from a video clip of Whiteparish's rendering of "Land of Hope and Glory", by clicking here. (Sorry about the poor quality of the sound—we're currently trying to sort this out.)
LOCAL CRIME FIGURES.
Happily, April 2012 seems to have been a pretty quiet month in the local area. According to the latest bulletin from PC Clissold, there was nothing significant to report in Whiteparish or in many of the other neighbourhood areas covered; perhaps the cold weather kept the bad guys at home? Anyway, for more detail, click here (note that some crime categories are excluded from these bulletins).
MEMORIAL GROUND TRUST UPDATE.
For the highlights of the recent meeting of the Memorial Ground Trust, held on 30th April 2012, click here.
MEMORIAL CENTRE UPDATE.
The 4th of May saw the first focus group working for the Memorial Centre project hold their first meeting. For more information, and some photos of the good folk taking part (kindly sent to us by Linda Palmer), click here.
PRINCE PHILIP DROPS IN ON FIRST RESPONDERS.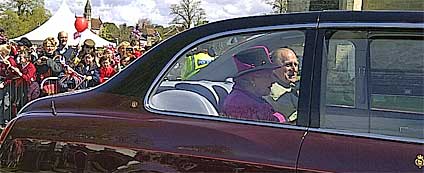 During the visit of the Queen and the Duke of Edinburgh to Salisbury, on 1st May, the royal couple toured a number of community area displays laid on in the Cathedral Close, and the Duke met some of the Whiteparish First Responders in the Southern Wiltshire Community Area section. Later the royal party left the Cathedral Close (see photo) via the High Street on their way to the station, with enthusiastic crowds lining the whole route.
Protocol prevented the First Responders taking any photos of the Duke of Edinburgh visiting their display, but for some other shots taken on the day, see the First Responders' page by clicking here.
MEMORIAL CENTRE/DRAFT CONTRACTOR CRITERIA. The two local trusts (Memorial Ground Trust and Village Hall Trust) who have joined forces to work on the Memorial Centre project, held their first joint meeting on April 4th. (For a diagram showing the structure and "staffing" of the working groups for the new project, click here.) To go to the Memorial Centre page on the website, click here.
Local businesses who might be interested in tendering for the work are encouraged to look at the draft list of criteria that has been drawn up for selecting contractors who will be invited to tender; click here for more details.
NEW YOUTH GROUP OPENS. The new Whiteparish Youth Group opened its doors for the first time on official opening day: 13th April 2012. You may well have seen the nice photo of the event that appeared in the Salisbury Journal and the Romsey Advertiser in the following week, but Suzanne Rendell has kindly sent us two more photos taken on the opening evening. To see the photos, and a little more about the Youth Group, click here.
BROWNIES HAVE FUN PAINTING EASTER EGGS. We've added a new mini-gallery of photos showing the 1st Landford Brownies at Easter 2012 who hung their delicately painted eggs on a tree. They each painted an egg with colourful nail polishes, and Russell Sach came along to photograph them all. (Thanks to Russell for taking them, and to Chris Ellis for sending them.) To see the photos, click here.
OPENING NIGHT FOR NEW YOUTH GROUP. Whiteparish's new Youth Group will be having an opening night in the Villlage Hall on Friday 13th April, from 7.00 pm to 10.00 pm, for Year 7-to-10s who live in the village to see the club and "join up to join in". Annual membership is just £10. Current Whiteparish Year 6s are also invited to come along, enjoy the evening, and sign up for their start date in July.
REPORT OF MEMORIAL CENTRE PUBLIC MEETING, 20 MARCH. Linda Palmer has kindly sent a fuller report of the recent Public Meeting in the Village Hall. To see it/download it as a pdf file, click here. (Yes, we have a link to the same thing in the panel above, but we didn't want anyone to miss it !)
ANNUAL PARISH MEETING. The Annual Parish Meeting (APM) was held in the Village Hall on 1st March, immediately followed by a regular Parish Council meeting. As usual a number of topics were discussed at both meetings but two items that caught the eye were these. (1) The Fete Committee are really short both of committee members and volunteers. They need more support, so if you're interersted in helping please get in touch with the committee. And (2) no person or organisation had come forward with regard to possible Jubilee celebrations in the village, so at the time of the APM nothing had been planned. For the full notes from the APM, click here. For the full notes from the regular PC meeting that followed, click here.
MEMORIAL GROUND AWARD FROM SPORT ENGLAND. Sue King writes that Sport England announced officially on 21 March that Whiteparish has been awarded a legacy status for the Memorial ground as part of the Diamond Jubillee celebrations and the MGT have got £35880 for the new cricket square—this includes one years' maintenance money. Sheila Campbell has quotes which make her confident that, together with some R2 money, we have enough for the new square. Great news - particularly in the same week as the vote for the new centre!
AND, ALAS, SOME MEMORIAL GROUND VANDALISM. A sad point from the report of the 19th March meeting of the Memorial Ground Trust (MGT): "Trustees were very sad to discover the Air skier equipment has been damaged beyond repair. PLEASE LET SHEILA CAMPBELL KNOW IF YOU SEE ANYTHING UNTOWARD ON THE GROUND – HELP US TO KEEP OUR EQUIPMENT SAFE FOR THE ENJOYMENT OF ALL. The items we provide cost hundreds of pounds and this mindless vandalism saddened us all." For the rest of the meeting highlights, click here.
Tennis Coaching on the MUGA. Tennis coaching starts again after Easter on the MUGA (Multi-Use Games Area, on the Memorial Ground). Early booking is essential. First sessions are on Sat 21 April at 2pm and 3pm and will continue until July with a break at half term. To book contact James Kirkpatrick on 07748 483639 or info@puretennis.co.uk; or contact Sheila Campbell on 01794 884837 or spcam48@btinternet.com. James will also do private adult or childrens' coaching if you contact him.
MUGA membership is still available in various packages. Annual membership can be as little as £30. For info click here or visit the shop. The MUGA is available free of charge for one evening per week for an adult tennis club. If you are interested let Sheila Campbell know which nights you are available.
The Memorial Ground Trust is always interested in new ideas for the use of the grounds or equipment – contact Sheila Campbell if you have any thoughts.
SUCCESSFUL SWAB MEETING. Tom Bray of the Southern Wiltshire Area Board has written to say that the Community Planning Event held in Downton on 6th March went well, with a "fantastic turnout" of 70 people. For more information about the subjects discussed and the actions identified, click here. The next SWAB meeting will be at Morgan's Vale Village Hall at 7.00pm on 5th April.
Apparently SWAB works closely with the Charities Information Bureau, whose website you can see by clicking here. The Bureau can help with advice on other, non-SWAB, sources of funding for local projects. So if you're trying to drum up funding for a local project, it might be worthwhile getting in touch with them.
PANTO PHOTO GALLERY NOW ON WEBSITE. There's a full set of photos of "Red Riding Hood" in the website's Galleries section now, taken at the Friday evening show. To see them, click here. There's at least one shot from every scene, and at least one shot for each combination of cast members within a scene. We're also hoping to add a few "out-takes" to the site soon.
LATER START TIME FOR 19 MARCH MGT MEETING. Please note that the regular meeting of the Memorial Ground Trust (MGT) on the evening of Monday 19th March in the Fountain Inn will start at 8.30 pm, not at 7.30 pm as previously stated.
VERY ENJOYABLE "RED RIDING HOOD" FROM PEPPERBOX PLAYERS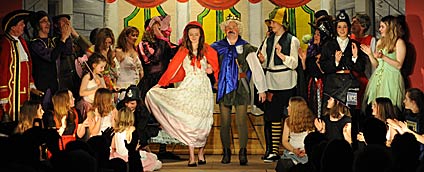 Red Riding Hood (Izzy Ashworth) and Robin Hood (Mike Coulished) join the rest of the cast onstage at the end of the show
2012's panto from the Pepperbox Players was great fun, as usual. There was a very enthusiastic audience for the Friday performance on 10th February (which we went to)—and we're sure the Saturday shows were just as well received. Strong performances from all concerned, whether "old stagers" or relatively new to the company (and it was nice to see Jimmy Goodland back on the boards). Our apologies for the delay in getting a set of photos up on the website's galleries section. We're working on them, and hope to have them on the site "real soon now" (ahem . . .) (Actually, in case you miss the follow-up paragraph above, the photos are now on the website, and you can see them by clicking here.)
RASH OF LOCAL THEFTS FROM VEHICLES. PC Henry Clissold writes to warn us that within 72 hours, very recently, there were six separate thefts or attempted thefts from motor vehicles in the Southern Wiltshire NPT area. A number of these involved the theft of handbags or sat-navs left in plain sight in the vehicle.
He asks that we please follow this simple timely advice:
Don't leave anything on display, even an old coat or plastic bag can be tempting for a thief.
Don't leave property in your glove box, leave it empty and open.
Remove your stereo if possible.
Lock the doors and windows of your car no matter where or how long you are leaving it for.
Don't make it easy for the thieves!!!
SWAB COMMUNITY PLANNING EVENT.. The Southern Wiltshire Area Board (SWAB) is hosting a special Community Planning Event on 6 March 2012 (7pm) at Downton's Trafalgar School where statistics about the area will be discussed. Interested residents are urged to come along and take part in the debate about how the area board should tackle these issues. This really important special event will present interesting Statistics about the area for consideration alongside our Community Plan 2010—15.
The initial presentation, from Maggie Rae, Director for Public Health and Public Protection, will cover Health and wellbeing, Economy, Children and young people, Community safety, Housing, Transport, Environment, and Resilient communities. This will be followed by the debate, with the meeting scheduled to close soon after 8.50 pm.
If you want to attend, you need to notify the organisers; either email Tom Bray by clicking here, or use the short online booking form. To view the Joint Strategic Assessment for our area, which contains many of the statistics that will emerge during Maggie Rae's presentation, click here.
Finally, for an interesting Google map showing the locations of SWAB grants made since 2009, click here.
FIRST RESPONDER NEWS. Latest news from the Whiteparish Community First Responder group includes the fact that they attended as many as 101 incidents during the past year, news of the proposed community access defibrillator, and photos from a trip to the Air Ambulance facility at Devizes. For the full report, click here.
WHITEPARISH ALL SAINTS' CHURCHYARD. The PCC wishes to give notice that work will be carried out to the North East area of the graveyard during the early part of 2012 to level and re- seed a number of graves.
A few of the existing headstones are tilting and need to be made safe as they could be a hazard to those who visit or tend graves.
This exercise will also enable the area to be kept mowed and tidy, especially if they are not visited and cared for regularly.
If you have any concerns or require further information, please contact
Ros Claydon Tel: 884 500 or Jane Legat Tel: 884 600.
WHITEPARISH MULTI USE GAMES AREA (MUGA). We are lucky to have such a wonderful resource in the village. Do come and use it. Application forms for membership are available on this website (click here to go to the MUGA page, where there's a link for downloading the form); and in the village shop.
Annual membership lasts for a year from receiving your membership card. If you have any questions about membership or other comments about the memorial ground, contact spcam48@btinternet.com.
EXTRA MEMORIAL GROUND TRUST MEETING. The Memorial Ground Trust are holding an extra meeting at 7.30 pm in the Fountain Inn on 13th February, to discuss the documents etc for the proposed merger of the Village Hall and Memorial Ground Trust charities. For the agenda, click here.
MEMORIAL CENTRE PLANNING APPLICATION. The amended planning application for the new Memorial Centre is currently with the Wiltshire Council planning dept. The public consultation period for this application ends on 23rd February 2012, with a decision expected before 13 March. Villagers who wish to view the application or to submit comments on it can do so online on the Wiltshire Council website by clicking here.
BROWNIES ACTIVITIES. To judge from the past year's review just received from "Little Owl", our local Brownies had another very full and interesting programme in 2011. To read all about it, click here.
PARISH COUNCIL NEWS. The Parish Council meeting held on 19th January 2012 covered gritting of the A27/Common Road junction, progress on the mooted new youth club, a rights-of-way survey (see also next item) and more. For details, click here.
The next Parish Council meeting will be the Annual Parish Meeting, to be held at 7.30 pm in the Village Hall as usual on 1st March.
FOOTPATHS MAP. We are pleased to have recently added a very useful rights-of-way map, provided by the Parish Council, to the website. This shows footpaths, byways, bridle-ways, etc within the parish, plus some of the footpaths etc of other adjoining parishes where they run near our parish boundary. To go to the new footpaths page, where there are download links for the map, click here.
Hopefully the map will be interesting to villagers wanting to get better acquainted with "deepest Whiteparish" and anyone else interested in exploring the village and surroundings.
ARCHIVED HOME PAGE ITEMS
By late 2009, and then again in late 2012 and 2013, the home page had grown to a ridiculous length (because we'd simply been adding to it for eight years). So there is a separate archive page for older material, which you can view by clicking here.
Forthcoming News and Events:
Click here for our Forthcoming News and Events list, or see the diary sections for individual organisations. To suggest an event to be featured on the website, email us at events@whiteparish.co.uk.