NEWS AND EVENTS
Past or future events shown on this page mostly apply to the whole village, or are meetings (or other events) open to non-members of the organisations concerned. For full lists of meetings, see the diaries of individual organisations. For church services, see the churches section.
Forthcoming Whiteparish Events List
FROM APRIL 2020 ONWARDS, COVID-19 PRECAUTIONS MEANT THE CANCELLATION OR POSTPONEMENT OF THE OVERWHELMING MAJORITY OF SOCIAL, SPORTING OR OTHER EVENTS THAT WERE SCHEDULED TO TAKE PLACE USING VILLAGE AMENITIES.

However, with the progressive easing of lockdown restrictions (despite a lot of lumps and bumps along the way!) from autumn 2020 onward, it was good that at the time of writing (end of 2021) most village clubs, organisations, and facilities that were operating before the advent of COVID-19 were now back on stream (though not necessarily listed below). If you are involved in running a club or other non-commercial village organisation that has resumed activities (with any still-applicable COVID-related precautions, of course), please get in touch and send us your programme, and we will be very pleased to resume (or start) listing them here.

Perhaps it would also be appropriate to grudgingly thank the designers of online conferencing software like Zoom, Microsoft Teams, etc. They might not have created these tools out of the kindness of their hearts, and many of the tools already existed in some form before COVID came along. But without them many social clubs would not have been able to function at all.

David & Jackie Hawker, 884127
Date & Time
Organisation
Venue
Event
Sat 28 May 1300
Cricket Club
Memorial Ground
Second XI v Bramshaw III
Sun 29 May
Cricket Club
Memorial Ground
Womens W10 v Lymington
2 Jun to 5 Jun
Jubilee Events
Memorial Ground
Click here for details
Sat 04 Jun 1205
Mobile Library
Ashmore Close
30-minute stop
Sat 04 Jun 1300
Cricket Club
Memorial Ground
First XI v Steeple Langford
Sat 04 Jun 1540 to 1550hrs? (±a few minutes)
Lancaster Bomber
MAY overfly our area on a route taking it past West Dean's Jubilee Fete towards Downton
(Plane is part of the Battle of Britain Memorial Flight)
Tue 07 Jun 1815
Cricket Club
Memorial Ground
Border League XI v Ampfield & N Baddesley
Thu 16 Jun
Cricket Club
Memorial Ground
Women's W10 v Cadnam
Sat 18 Jun 1300
Cricket Club
Memorial Ground
First XI v Amesbury
Sat 18 Jun 1205
Mobile Library
Ashmore Close
30-minute stop
Tue 21 June 1815
Cricket Club
Memorial Ground
Border League XI v Wellow & Plaitford
Thu 23 Jun 1035
Mobile Library
Ashmore Close
30-minute stop
Thu 23 Jun 1115
Mobile Library
Whiteparish School
55-minute stop
Sat 25 Jun 1300
Cricket Club
Memorial Ground
Second XI v Hungerford 2
Sat 02 Jul 1205
Mobile Library
Ashmore Close
30-minute stop
Sat 09 Jul 1300
Cricket Club
Memorial Ground
First XI v Winterbourne CC
Tue 12 Jul 1815
Cricket Club
Memorial Ground
Border League XI v Michelmersh & Timsbury
Sat 16 Jul 1205
Mobile Library
Ashmore Close
30-minute stop
Sat 16 Jul 1300
Cricket Club
Memorial Ground
First XI v Laverstock & Ford CC
Thu 21 Jul 1115
Mobile Library
Whiteparish School
55-minute stop
Tue 26 Jul 1815
Cricket Club
Memorial Ground
Border League XI v Trojans CC
Sat 30 Jul 1205
Mobile Library
Ashmore Close
30-minute stop
Sat 30 Jul 1300
Cricket Club
Memorial Ground
First XI v Mudeford 2nd XI
Sat 06 Aug 1300
Cricket Club
Memorial Ground
Second XI v Amport CC 2nd XI
Sat 13 Aug 1205
Mobile Library
Ashmore Close
30-minute stop
Sat 13 Aug 1300
Cricket Club
Memorial Ground
First XI v Mottisfont CC
Thu 18 Aug 1115
Mobile Library
Whiteparish School
55-minute stop
Sat 20 Aug
Garden Club
Memorial Centre
Garden & Hobbies Show
Sat 20 Aug 1300
Cricket Club
Memorial Ground
Second XI v Broughton CC
Sun 21 Aug
Cricket Club
Memorial Ground
Women's Friendly v Collingbourne CC Women's 1st XI
Sat 27 Aug 1300
Cricket Club
Memorial Ground
First XI v Dorset Indians CC 1st XI
Sat 27 Aug 1205
Mobile Library
Ashmore Close
30-minute stop
If you want to publicise a forthcoming Whiteparish village event, or to give us a report of one that's recently happened, give us a call on 884127 or email us at comments@whiteparish.co.uk.
Our yearly fireworks display, profits from which go to benefit All Saints' School, is very much a fixture on the Whiteparish calendar, looked forward to by villagers and visitors of all ages. It is organised and marshalled by All Saints School' PTA, and generously designed, staged and sponsored by local firm Pains' Fireworks. This year the rain falling through most of the morning and afternoon meant there was some doubt as to whether the show could be held on the appointed day, but happily the weather cleared up with not much more than an hour to go. A good crowd turned up to enjoy what was on offer from the various food and drink concessions and from the Parish Lantern, and then settled down to enjoy a cracking display provided by the wizard pyrotechnicians from Pains.
2019's show was fully up to the standard of previous years, with (it seemed to us) some subtle new colours and some new designs on display. We took a few photographs which you can see by clicking here. Obviously, still photos can never convey the experience of being there, but if you were unlucky enough to miss the real thing this year, perhaps the photos will give some indication (however inadequate) of what was on offer. Many thanks to the school PTA, to Pains' Fireworks, to the Parish Lantern and stall-holders, and to everyone else who contributed in any way to an excellent evening.
Thank you to all who contributed in any way to the Fete and associated events this year, and helped to make it (as usual) such a happy, memorable and successful weekend, despite the dispiriting weather that we had to endure for the first hour or so of the Fete.
The fete committee are very grateful to everyone who kindly donated prizes, bottles, cakes, books and toys; who worked on publicity or bought and sold raffle tickets; who manned stalls, and helped with the catering, setting-up, and clearing away; or gave their time for a host of other jobs that needed doing—and of course to all those businesses who generously sponsored the event.
(More to come later!)
80 people gathered at the Parish Lantern on the 20th of January to take part in what has become an annual pub quiz event, which raised nearly £300 for the Whiteparish youth group. This year's victors were the "Happy Sundays" team, who just beat last year's winners by two points in an exciting finale. The quiz covered pop music from the seventies to the current day so teams that have a good age spread did very well!

The photo shows project "prime mover" Sarah Skeates cutting the ceremonial ribbon to declare Whiteparish's new skatepark open, surrounded by a small but enthusiastic crowd (not all of whom appear in this shot) of users, supporters, and councillors. Unfortunately the weather wasn't kind, and fairly light rain soon became torrential! Still, everyone was pleased to see the park open and actually in use (before most of us fled to our cars). More photos and text to follow.
The Trustees of the Whiteparish Memorial Trust would like to thank all those who attended our two major funding events of the year at the Memorial Centre. The Winter Ball raised £2,277.56 which will help fund some of the additional maintenance work needed as the Centre enters its 6th year of operation. Trustees would particularly like to thank Maggie & Dean Davis, Michaela Toms and Sarah Skeates and all the volunteer committee members who organised the event and helped decorate the hall. Thanks also to Eric Moore who ran the very busy bar with his customary efficiency and good humour as well as Mel and her wonderful catering team.
The 100+ club party was also a great success with a tasty hot supper provided by Maggie Davis, Sarah Skeates, Julie Bell and Julia Hayday with 100+ club members contributing a mouth-watering selection of desserts to round the evening off. Emily Sutherland entertained the party with two great musical sets and then contributed to her teams win in the fun quiz. The party and raffle contributed £500 to the charity funds.
A special thank you to Sarah Skeates for organising the raffle for both evenings and heartfelt thanks to all those who contributed prizes. We are also very grateful for the support for both events given by Shaun and Tricia Wyley of the Kings Head and Paul and Lorraine Cooper from the Parish Lantern, we wish both of our village pubs a most successful 2019.
Thank you to all who contributed in any way to the Fete and associated events this year, and helped to make it such a happy, memorable and successful weekend.
The fete committee are very grateful to everyone who kindly donated prizes, bottles, cakes, books and toys; who worked on publicity or bought and sold raffle tickets; who manned stalls, and helped with the catering, setting-up, and clearing away; or gave their time for a host of other jobs that needed doing—and of course to all those businesses who generously sponsored the event.
250th Anniversary of The Circus: This year the theme of the Fete was to commemorate the 250th anniversary of what we could consider as the start of circus as we know it today—when a Mr Philip Astley set up a circular amphitheatre in London, for shows that mostly featured horse-riding tricks. So it was fitting that our fete was officially opened by circus character "Wiggles" the Whiteparish Clown (aka "Dotty"—there may have been some last-minute confusion about the name!). Wiggles then circulated on the Memorial Ground for quite a while, mingling with the children, with a bag of balloons and party poppers in one hand and a glass of Pimms in the other!!
During the afternoon we were once more entertained by Forest School of Dance, after which the Woodford Ukulele Band played away for the rest of the afternoon. There were many of our usual stalls, including plenty representing village clubs and organisations. It was a lovely warm day, so the Pimms and Ice Creams were much in demand.
As in previous years, the Church was a lovely contrast from the activities over the wall in the Memorial Ground. The theme of the Circus and the Clown were ingeniously continued throughout the Church, via the beautiful, vibrant, and cleverly designed flower arrangements, The art exhibition, too, included many Circus and Clown pictures, amongst many other varied pieces of work—all of such a high standard, done by a small group of very talented local artists. Also displayed were a very good number of Children's Competition entries, all with the same Circus and Clown theme. For a gallery of photographs taken on the day, click here.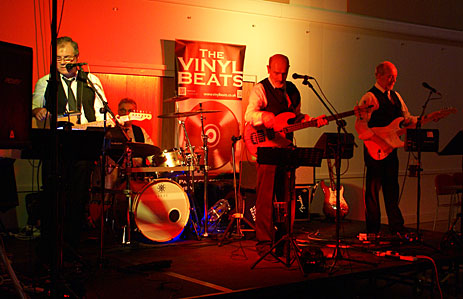 Vinyl Beats
The organisers of this year's Whiteparish Music Festival once again feel that their twin aims were achieved. Money was raised to maintain the church, and a range of quality, live music was brought to the village. The festival's organising committee was able to hand over more than £1,500 to the Parochial Church Council, to assist with the costs of maintaining the village church. As Paul Gooderham of the organising committee noted, "Running the church is a costly business! This much loved building, at the heart of the village, is expensive to maintain, as old buildings tend to be. Yet it contributes so much to village life."
This year's festival broke new ground with an opening event in the memorial centre, rather than the church. The Vinyl Beats had an enthusiastic, if disappointingly small, audience up on their feet and calling for more.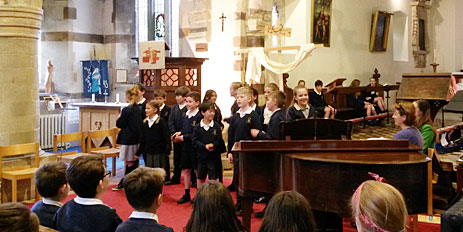 School Concert (1)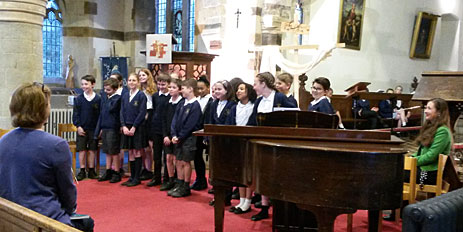 School Concert (2)
The two midweek recitals in the church came from members of the University of Winchester Music Centre and the young musicians of the village primary school. School governor, Mary Odurny, who also sits on the music committee, welcomes the involvement of the schoolchildren: "It is encouraging to see so much musical talent of the next generation coming through," she said.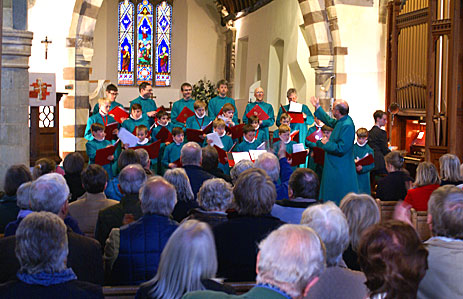 Cathedral Choir
The climax of the festival week was the sell-out recital by the full – men and boys – Salisbury cathedral choir, under their director, David Halls. They delighted their audience with a faultless performance of some of the classics of the Anglican and continental, sacred, choral repertoire. "This was a magnificent conclusion to this year's festival," enthused the village church's resident organist, John Hall. "You have to wait a long time to come to the top of the list to get a visit from the cathedral choir. It was well worth the wait!" added John, also a festival committee member.
Early 2018 saw a further expansion of what's available in the Memorial Hall these days, with the introduction of regular movie showings during the winter months, organised by the (not-for-profit) "Parish Pictures". At the time of writing, this enthusiastic group of volunteers have screened three feature films and their current season ends on the 5th May with a showing of "Mr Holmes", starring Ian Mckellen as the great detective–in retirement but still wanting to solve an old case. Doors open at 7:15 pm and the film starts at 8:00 pm.
The website team missed the first couple of films screened, but we did catch the third: "Murder on the Orient Express", and were impressed by the quality of the picture and the sound. Parish Pictures team member John Herrett was kind enough to give us some technical details about how this was achieved, plus some other background information which you may find interesting.
"The technology used for projection is at a relatively simple level in current cinema technology: a domestic Blu-ray player with a standard retail Blu-ray disc as the source. The video is projected by the Memorial Centre's projector onto the Centre's cloth pull-down screen. The projector is on a trolley about 5m back from the screen. This has proved very satisfactory. Although personally I would like to have a larger screen (say 12ft or 14ft wide rather than the 8ft we have now), we have had only one adverse comment on the screen size, and obviously there would be a cost.
We had more difficulties with the sound, partly because the hall acoustics, with lots of hard surfaces and the high ceiling, aren't particularly good. However we developed the current speaker arrangement with the help of a technical advisor from the BFI (British Film Institute) / ICO (Independent Cinema Office), and there may be a couple more tweaks to be tried yet. Response from the audience to the sound on "Murder" was very positive: the speaker set-up was effectively "3.2", i.e. Front left, centre, front right and 2 sub-woofers. It's unlikely that we could do anything more complicated than this owing to the difficulty of temporarily setting up numerous additional speakers to provide "surround sound" to an audience of 80, and I'm not sure it would work with the hall acoustics anyway.
Interpretation of dialogue is the critical issue; in some films (especially American) this can already be muffled and with our average audience age the acuity of hearing varies. We have chosen to run the films with sub-titles as this allows very deaf people to come and share the evening; there has been a small degree of adverse reaction to the sub-titles but mostly it's been positive.
Licensing of the film is simpler than it used to be as it's no longer necessary to obtain the film media from the licensor; they now allow the use of readily available domestic Blu-ray disks as noted above. Licensing is still the biggest cost, however, at 35%+VAT of our ticket sales. We have also to have a separate, although much cheaper, licence for the music in the film!
As an organisation, Parish Pictures is quite informal. Besides myself and Di, there are 5 others in our "management group", and a film selection panel of around 6. This panel nominate up to 3 films each and I whittle this down to 6 to go into an online ballot sent to all who have subscribed to the e-mailing list."
John Herrett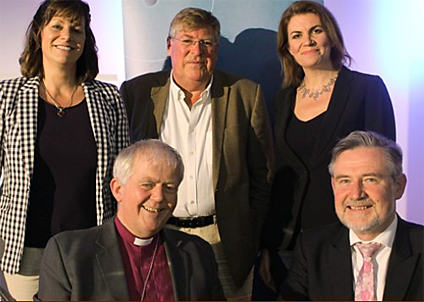 The panel (clockwise from top left): Claire Perry, Ed Stourton (chair), Julia Hartley-Brewer, Barry Gardiner, and Nick Holtam
As 2017 went on it was great to see the Memorial Hall really getting into its stride, and used for staging an increasingly varied list of events. After a live concert earlier in the year by Richard Digance, in July the Watermill Theatre staged what we gather was a successful and popular staging of Ellen Robertson's two-hander play "Nesting". And later the same month a packed hall of villagers (and some from further afield) were intrigued and entertained as they formed the "studio audience" for a live broadcast of Radio 4's popular weekly programme: "Any Questions".
As the BBC website described the programme: "[Chairman] Ed Stourton presents political debate from Whiteparish Memorial Centre near Salisbury with a panel including the journalist Julia Hartley Brewer, the Shadow Secretary of State for International Trade and Shadow Minister for International Climate Change Barry Gardiner MP, the Bishop od Salisbury the Rt Rev. Nick Holtam, and the Minister for Climate Change and Industry Claire Perry MP.
Topics discussed include the phasing out of diesel cars, same sex marriage, US trade deal post brexit, new government commission to look at the role immigration plays in the UK, sperm counts dropping in western men and government proposals to update the transgender policies."
Happily the whole audience (pretty much) had arrived by the appointed time of 6.45 pm, and as we took our seats some of us wondered how we were going to kill the hour or so before the broadcast. No need! Helped by interesting warm-up chats from the producer and assistant producer, and some sound checks where we clapped to order, the start of the show's live broadcast arrived very quickly.
There's little point in trying to describe the "meat" of the programme—the discussions—any further here, because at least for the time being you can play the BBC I-Player Radio recording, which is available at http://www.bbc.co.uk/programmes/b08yrs0l
But just as interesting to many of us was getting an insight into what happens behind the scenes before and during the broadcast. Just one small example was that penel member Barry Gardiner has a very, very quiet voice. No problem. In the show as broadcast, his voice had been brought up to just the same levels as the other participants, and you'd never have guessed. Once the live show was over, it looked as if the performers and technical staff were again very ready to answer questions, but this time about the programme and its making, rather than about politics.
Of course there had been negotiations well beforehand, simply to have the show happen in the Memorial Centre at all. Heavily involved from "the Whiteparish side" on the night or beforehand were Stuart McWilliam and several others, including Berny Higgins, Martin Fisher, and of course Sid Twine. (There must have been others, so apologies if you're not named here). We understand that strictly speaking the Memorial Hall's seating capacity was a little less than the BBC normally expects to use for the show, but perhaps the hall's other facilities helped to clinch the deal.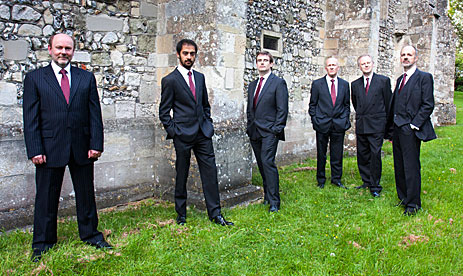 Sarum Six
The fifth annual Whiteparish Music Festival drew to a close on Saturday, 29th April when local professional vocal ensemble Sarum Six gave a well delivered programme of sacred and secular music.
John Hall, who sits on the festival committee, expressed his pleasure that almost £1,300 had been raised during the week-long festival to help with the ongoing running costs of the village's small but beautiful church. "I am delighted," he said. "This is a fantastic result and is thanks to a lot of hard work from our dedicated team."
Mary Odurny who also sits on the committee agreed: it was well worth doing.
Fellow committee member Paul Gooderham noted that "This means that, overall, we've made £1 for the church for every £2 taken – a very good result. "
Clarendon team vicar, the Revd. Jane Dunlop, who lives in the village and has pastoral responsibility for it, said "This is a really good result; and we were treated to some wonderful musical experiences. "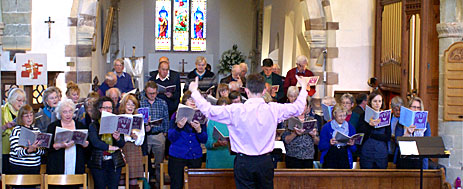 Come and Sing
The week had begun with another popular Come and Sing session, mixing popular anthems by Handel and Parry with Kodaly's Missa Brevis and once more led by Michael Keeley. Michael's late father was the vicar of Whiteparish and his mother still attends the church, remaining very involved in its life. Michael himself has gone on to sing in the choirs of both Salisbury and St Paul's Cathedrals.

Performers at Instrumental Concert
Midweek offerings were performances from the next generation of budding musicians from the village primary school on the Tuesday and, the following evening, a delightful and well appreciated mix of instrumental music performed by Solent Accordions and the Courtyard Wind Quintet.
The festival committee report that planning is well under way for 2018, with at least one local, musical big name likely to be attending–keep watching whiteparish.co.uk/musfest for further details.

Richard Digance played at the Memorial Centre in February 2017, which was the first "celebrity" musical performance at the venue since it was opened.
Formerly a resident of Sherfield English, now Salisbury, Richard has recently embarked on an 11-month country-wide Golden Anniversary Tour to celebrate his 50 years in showbusiness and the Whiteparish gig was only the 7th night of his 65-date tour.
He started the evening with a brief set of his usual mix of anecdotes and humorous songs before he introduced his support band The Broadside Boys. Former schoolmates from Suffolk, this duo provided a set of traditional folk songs based on their own personal experiences and were very well received by the audience.
After an interval for refreshments, where both Richard Digance and the Broadside Boys sold and signed CDs and chatted with the audience, Richard returned for his main set and continued to provide the laughs with stories which included his experience of supporting Tom Jones and visiting the Falkland Islands to play a gig for the British forces.
The evening was extremely well supported and both Richard and the band appreciated the intimacy of the Whiteparish Memorial Centre and enthusiasm of the audience.
"Rising Stars", November 2016
All Saints' Church, Whiteparish held its first dedicated 'Children in Need' event on 19th November. 'Rising Stars' was a talent show performed by nine young musicians from the village and surrounding area. The range of music was vast spanning classical, jazz and pop. We heard from 'Missing Monkeys', a local group who will be known to those who attended the Whiteparish 'Hog Roast' last summer, two organists, two pianists, a harpist and a vocalist. The standard was very high across the board and the event was well supported by family, friends and those with no direct links but who were keen to support village enterprise and a good cause. The evening raised £280 which has been divided between 'Children in Need' and the maintenance of the Church.
Paul Gooderham


2015 Whiteparish Music Festival
"Come and Sing", on Saturday 11th April 2015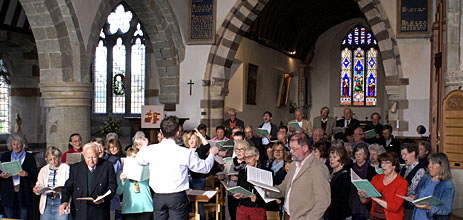 Many thanks to Paul and Gillian Gooderham for sending this very nice photo of the event, which was evidently enjoyed by all taking part and by the audience at the evening concert.
Will Pickvance Wows Whiteparish, April 18th, 2015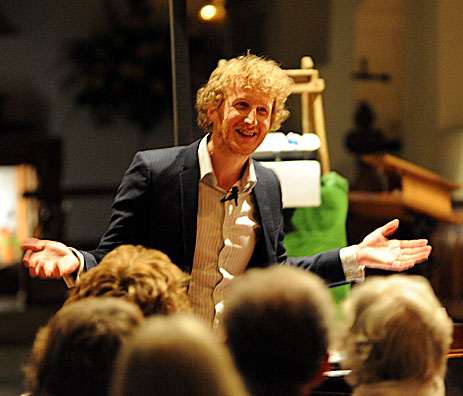 Rounding off the 2015 Whiteparish Music Festival week, Will Pickvance (whose parents live in the village) performed his Edinburgh Fringe show "Anatomy of the piano" to a packed house (or church, to be precise) for well over two hours on the evening of April 18th.
This novel, quirky, but most enjoyable solo tour de force relied on Will's charm and extraordinary musicianship—maybe "virtuosity" wouldn't be far off the mark—as he played almost continuously throughout. To start the first half of the show, he told us a rather charming (and autobiographical?) story about a little boy who asked Father Christmas for a rocket ship, but got a piano instead . . . and he then went on to play for a full hour in a wide variety of musical styles, accompanying himself as as told gentle tales and expounded his idiosyncratic and whimsical theory of "pianocity"--which as far as one could tell was centred on the idea that pianos are alive and have personalities, adventures, and anatomy (as per the name of the show). So we learned about the technical terms for the complicated actions of hammers, strings, and dampers etc, along with some slightly less mainstream ideas about piano-skin, how the keys are essentially a piano's teeth, and how pianos like to be sociable as they roam the seas, looking (in what we assume were Will's own projected cartoons) rather like crosses between pianos and sperm whales.
Some of the musical content of the first half was improvised, but it included excerpts from or in the style of Bach, other classical and romantic composers, musical shows, pop music, and (definitely a pleasure to these ears, at least) quite a lot of jazz, often channelling the great American stride and boogie-woogie pianists of the thirties and forties, like Fats Waller.
During the second half Will played requests that people had contributed at the interval, not just straightforward tunes but many of the "Nellie the elephant in the style of JS Bach" variety. Although that particular example didn't actually crop up, plenty of other challenging combinations did, including an audience singalong to two tunes from WW1: "Pack up your troubles" and "It's a long way to Tipperary", with alternating lines from each. Will sailed through them all, though time constraints meant that sometimes he could only fit in a few bars of a tune before segueing to the next,with some witty and good-humoured commentary to introduce each one.
Then all too soon it was the end, and after an encore and four or maybe five curtain calls we filed out into the cold spring night, heads full of music, having been thoroughly entertained.
Ambulance Visits All Saints School, July 2014
On 16th July 2014, a South-West Ambulance Service ambulance, accompanied by paramedic Stuart McWilliam and three other members of the Whiteparish Community First Responders, visited Whiteparish All Saints School. The photos here were taken and kindly provided by staff member Ellis Miles.
The visitors demonstrated some simple first aid techniques and gave the pupils a look at the interior of the ambulance and its equipment. Each pupil was offered the opportunity to have their own electrocardiogram (ECG) recorded (which is why many of the Year 5s are clutching ECG printouts and still have ECG contacts on their legs!).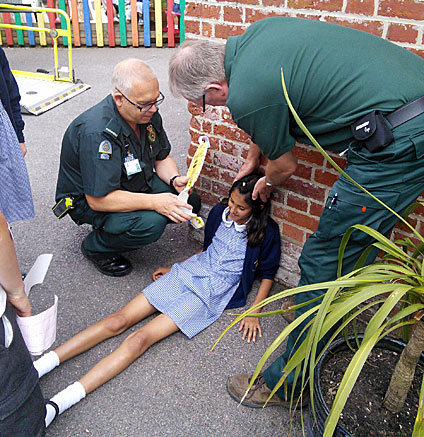 Paramedic Stuart McWilliam and fellow first responder Martin Fisher demonstrate first aid on an "injured" volunteer!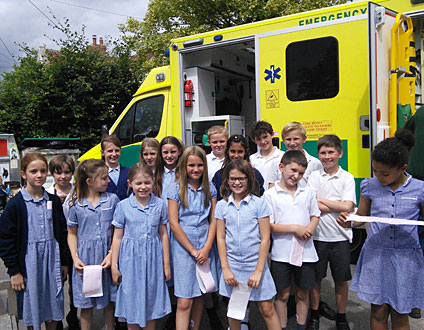 Year 5 pupils, with the ambulance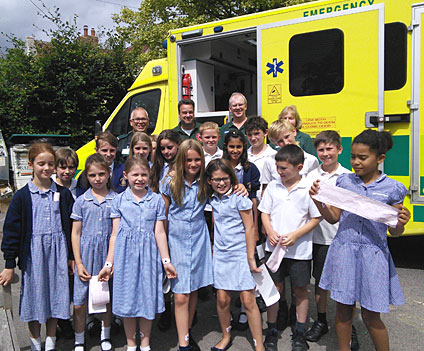 Stuart and fellow first responders Neil Orr, Martin Fisher, and Jackie Hawker (back row); and Year 5 pupils, some still wearing their ECG contacts!
Whiteparish Music Festival, April 2013
The inaugural Whiteparish music festival took place between the 6th-14th April and consisted of three concerts; all held at All Saints Church and all very different in their own way.
The first concert on the 6th April took the form of a "Come & Sing" when around 60 people from the locality signed up to form a scratch choir practising together for the first time that afternoon, and then later joining a small orchestra under the direction of Norman Savage; and finally putting on a performance the same evening under the very professional baton of Michael Keeley, whose interest and love of music developed whilst a young chorister at All Saints. Michael worked throughout the day with the soloists, the choir, and the orchestra and then combined all three to give a magnificent performance of firstly the Cantique de Jean Racine by Gabriel Faure and then the main work the Gloria by Antonia Vivaldi.
Notable were the faultless and delightful renderings of the soprano (Claire Reeder) and contralto (Charlotte Fletcher) soloists, despite these being rearranged only the same morning due to the withdrawal of the third soloist due to illness. The choral works were preceded by some very pleasant piano playing by Andrew Harrison King. The evening was much enjoyed by audience and performers alike.
On the 10th April we were entertained by a young organist—Ben Maton, who is organ scholar at Bishop Wordsworth's School and St Thomas Church—who played 10 short pieces ranging from Bach, Handel, and Purcell to Mozart and Elgar. These pieces were particularly chosen to accommodate the limitations of the single manual Church organ and Ben demonstrated his command of the instrument and the music well above his years. His recital was well received by the good number of audience present.
The festival came to a climax on the 14th April when the Sarum Six performed to a packed Church. This recently formed vocal ensemble—covering counter tenor, tenor, baritone, and bass—demonstrated their extraordinary range and talent, covering sacred music from Byrd, Tallis, and Gibbons to Choral Dances from Benjamin Britten; and then close-harmony numbers including Swing Low and Deep River, and finally tackling a very complicated arrangement of Bobby Shaftoe as an encore. They deservedly received a rapturous applause bringing the festival to a very satisfactory conclusion having raised in total over £2000 which will go to aid Church running costs.
Many thanks to all those who supported the festival or helped in any way.
2013 Pantomime: "Treasure Island", 1st February 2013
In some ways this could have been a sad occasion, because it was the last time that the Pepperbox Players would stage a panto at the old Village Hall (which has now been sold and which the village can only use for another three months or so before the site is redeveloped). But at the Friday night performance the nearly-full house was anything but sad, being entertained in true Pepperbox Players tradition by this excellent production.
It was interesting to see Adie Feltham back in the role of Dame, after Phil Brown had spent several years in the part. Rather different styles, but it would be difficult to choose between them for entertainment value. Good to see Jimmy Goodland again, too, who had us in stitches with some hilarious er, let's call it "physical" comedy as Spot the dog. (Hope he toned some of it down for the matinee!) John Dunlop's Gangnam-style moves deserve a special mention, too! And as ever, all the rest of the troupe and the backstage crew did a great job.
Below are a few photos putting faces to the named parts. Apologies to the Pirates and Chorus for not including you, too. For a full set of photos of the perfomance, with nearly all the scenes included, and any changes in personnel within each scene, click here.
| | | |
| --- | --- | --- |
| | | |
| Mike Coulished as "Squire Trelawney" | Izzy Ashworth as "Mary", and Jimmy Goodland as "Spot", the Dog | Catt Belcher as "Jim Hawkins" |
| | | |
| Lizzie Guild as "Doctor Livesey" | Helen Males as "Short John Silver" | Phil Brown as "Ben Gunn" |
| | | |
| Colin Males as "Jolly Roger" | Tom Angel as "Jack" | John Dunlop as "Blind Pugh" |
| | | |
| Zoe Guild as "Israel Hands" | Adie Feltham as "Aunt Sally Forth" | |
Annual Fireworks Display, 10th November 2012
With generous and much-appreciated support from Pains Fireworks Ltd, the 2012 annual fireworks display in aid of Whiteparish All Saints School was a spectacular success, and thoroughly enjoyed by the 1300 or so people who attended. The display is organised by the school PTA with help from others in the village, and this year it raised £5400 for the school—a similar amount to last year. However, in 2012 (unlike last year) there were other local displays on the same night as the Whiteparish one, which makes the sum raised all the more impressive.
The photos below are some of those kindly made available for the website by Keith Hobbs. To go to a small gallery with some more of Keith's photos taken on the night, click here.
Queen's Diamond Jubilee, May/June 2012
During May and early June of 2012, Whiteparish commemorated the 60th anniversary of Queen Elizabeth II's accession to the throne with several events. The three that we briefly cover here were Whteparish's own version of "The Last Night of the Proms" a Jubilee Celebration Service and Picnic, and the Lighting of a Beacon on Dean Hill, our local highest point. Click on any of the three links in the last sentence to see photos of the events mentioned.
"Last Night of the Proms", 19th May 2012

The Proms evening in the Village Hall included as many as 23 choral, orchestral, and instrumental works from a wide variety of composers in the programme! Performers came from three main sources: the Whiteparish All Saints Church Choir (shown above in full voice), the All Saints Music Group of instrumental players, and the Millstream Orchestra based in Damerham, plus guest singer Kaarina Manzur who soloed on Rule Britannia in true traditional Proms style.
All the performances were enjoyable but the evening really got into "Prommy" mood towards the end when the performers were joined by the capacity audience, who waved their flags like mad and sang their hearts out in I vow to thee, my country, Jerusalem, Rule Britannia, and Land of Hope and Glory. Altogether a thoroughly enjoyable evening which raised a magnificent £1403 for the new Memorial Centre. Congratulations to all concerned.
All Saints School Jubilee Celebration Service & Picnic, 3rd June 2012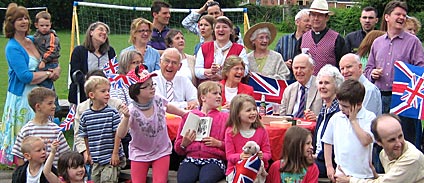 The photo shows some of the happy faces among the forty or more Whiteparishioners, young and not quite so young, who came to All Saints School to enjoy the Jubilee Celebration Service and the picnic that followed. Looks like something very funny was happening off to the right, out of shot, while local photographer Roger Elliott (also out of shot) patiently waited for them to settle down! Roger's nice group photo of the gathering appeared on p55 of the June 7th Salisbury Journal.
Jubilee Beacon on Dean Hill, 4th June 2012

On the evening of 4th June, some 60 to 100 Whiteparish folk (based on a quick count of 30+ cars) gathered on Dean Hill, our local highest point, for the lighting of a celebration Jubilee Beacon. This had been organised by the Clarendon Team of local churches (one of which is Whiteparish All Saints Church) on land kindly made available by David and Juliet Seal. The lighting was scheduled for 10.20 pm to coordinate with the lighting of similar beacons all over the country, but before that there were cooking facilities available for anyone who wanted to barbecue.
Once the beacon was lit, an impressive flame rose maybe 10 metres into the night sky. We enjoyed the warmth and the scene, and soon afterwards at least two other local beacons could be seen in the distance, one of them probably at Harnham, the other probably at East Tytherley. The Whiteparish Beacon must have been visible for quite a distance; especially from higher ground, north of the Dean Hill ridge. We left after about 45 minutes when the flame was starting to get smaller; but the beacon was still very visible from the road to the Grimsteads, which of course is much lower than the beacon site. Anyway, this was another well-organised and enjoyable event, and thanks go to all involved.
New Youth Group Opens, 13th April 2012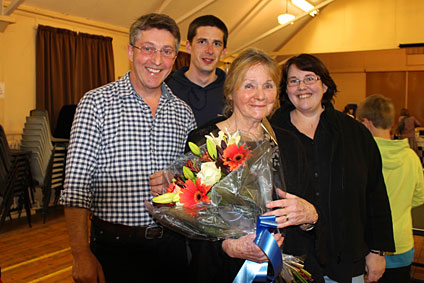 The new Whiteparish Youth Group is offiicially opened by special guest Mrs Shirley Near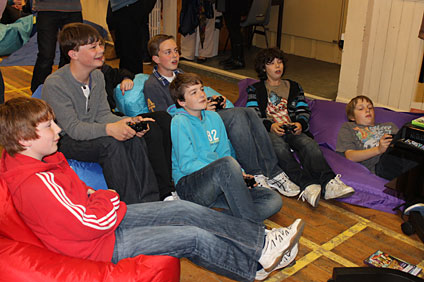 Boys enjoying playing with computer games
On April 13th, Whiteparish's new Youth Group was officially opened by Mrs Shirley Near, or Brympton Riding Stables. The Youth Group is open to Whiteparish youngsters in year 7 to year 10, and more than thirty arrived for the opening session at the Village Hall. It will be run on Friday evenings at the Village Hall between 7.00 pm and 10.00 pm, and has a pool table, air hockey, and a large-screen TV for computer games.
Richard Rendall, parent and chairman of the Youth Group committee, was quoted as saying "We felt there was a gap for the 11-to-16 age group in the village and hopefully this youth group will fill this. It has been a real community effort to get it off the ground—all within just a few months from the initial idea".
The Youth Group has its own Facebook page at www.facebook.com/whiteparishyouthgroup.
"Jazz on a Summer Evening", 25th June 2011
New Forest Jazz Workshop
(some of them)

The Blue Tides
In late June, All Saints Church was the venue for an evening concert of jazz from two fairly local bands: The New Forest Jazz Workshop, and The Blue Tides. This was a fund-raiser for the new Memorial Centre; and full marks to the PCC for the brave/innovative decision to allow the church to be used for something that was definitely outside the the usual run of All Saints' activities. Going to church for a jazz concert was a novel concept, but it worked out fine.
Each outfit played two short sets, turn and turn about, separated by an interval when we could enjoy a glass of wine and chat to the players. The New Forest Jazz Workshop are basically a rehearsal band formed to give players some experience at jazz-style ensemble playing, and improvising. On the night there were three sax players, two trombonists (one doubling as singer), guitar, bass, and drums. After a bit of a nervous start they soon got into their stride, playing mostly swing and bluesy numbers (Ellington, "Black Coffee", "Route 66", etc). Worthy of special mention were a driving performance of "Route 66" with powerful vocals from singer/trombonist Ali Baverstock, some nice guitar solos, and the solid beat throughout from musical director Stephen Godsall providing the bass and a stand-in drummer whose name we didn't catch.
The other band—Blue Tides—were in more of a cocktail jazz idiom and very professional. With Stephen Godsall again on guitar, impressive tenor and soprano sax playing from Ian Ellis, and the equally impressive Laura Taylor on vocals, Blue Tides performed high-quality versions of songs associated with Bonnie Raitt, Ella Fitzgerald, Julie London, the late Amy Winehouse, and others. The beautiful "You can't make me love you" and Julie London's old hit "Cry me a river" were standouts (to these ears, anyway).
Altogether an interesting and enjoyable evening. Well done to the organisers and the PCC. Perhaps we could do it again sometime ? !
2011 Fete Roundup!
Weren't we lucky with the weather on the great day itself???
The Friday evening hardy teenagers didn't seem to mind a drop of rain, but unfortunately Karen and Shirley had to postpone their pony show for a week, when the weather was much improved. The event took place on Sunday 19th and turned out to be a huge success. It's a lot of work in rearranging the show date and we are so very grateful they gave it another try.
The Fete itself was all we could have hoped for–all the old favourites, including the New Forest Plonkers, as well as some new items (the Dunker!)
Mrs Wendy Hedley and Mr James Clarkson were most impressed with the efforts made by the children for the artwork and the fancy dress when they carried out their judging. The results will be included in Steeple and Street..
On behalf of this year's fete committee, I thank everyone who helped in any way and of course thank all our customers. Our Treasurer, Langdon, has prepared a breakdown so you can all see how lucky the school and church is this year.
If you enjoyed the fete, please look out for the date of the first meeting to arrange it for 2012. This will be in October and a new committee will be needed, made up from volunteers from the school, the church and the village. We have a handy pack to hand on which gives a lot of useful information of where to book the loos etc, and a diary of events as they need to be dealt with. Please do consider whether you could help as the more volunteers there are, the less there is for everyone to do.
There will be a round-up meeting for this fete on 7th July so, if anyone has any comments/suggestions, then please contact a fete committee member.
Now for this year's results. Listed below are the takings at the main events.
| | |
| --- | --- |
| Event | Takings (£) |
| Bar (Friday) | 2122.82 |
| Bar (Saturday) | 474.85 |
| Barbecue | 1071.54 |
| Books | 77.50 |
| Bottle Stall | 620.00 |
| Bouncy Castle | 74.85 |
| Carnival Bucket | 36.20 |
| Children's Tombola | 56.75 |
| Coconut Shy | 174.00 |
| Country Kitchen | 491.80 |
| Hog Roast | 836.10 |
| Ice cream | 176.89 |
| Lollies | 12.90 |
| Lunches | 263.50 |
| Pegs | 4.20 |
| Penalty Shootout | 20.45 |
| Pimms | 70.00 |
| Pony Show | 450.90 |
| Raffle | 1830.00 |
| Scalectrix | 124.00 |
| Skittles | 48.00 |
| Splat the Rat | 24.30 |
| Sponsorship | 2390.00 |
| Stalls | 637.00 |
| Teas | 479.87 |
| Tombola | 334.01 |
| Tuesday Quiz & Raffle | 365.47 |
| Welly Wanging | 76.00 |
| Year 6 | 75.00 |
After costs and expenses have been deducted, there is £8800 left to share between the School and the Church, which is an incredible result, and £2300 more to share than last year, making it one of the best results ever!
Sue King
Royal Wedding Tea Party, Friday 29th April 2011


(The photo shows just a few of the 153 children who attended (plus relatives and friends), posing for a photo after the tea party. For some more photos, click here. Look out too for a photo in the Salisbury Journal.)
What a wonderful afternoon we had! After all those scary weather forecasts, the afternoon turned out just as we'd hoped. A huge thank you to everyone who helped in any way (you know who you are!).
Do check out the photos (see link above) – then reminisce about a lovely day. I'm on the case for sourcing (13) souvenirs for those that weren't registered and will be in touch with them all as soon as I can.
I'm already being asked about next year's Diamond Jubilee – we'll have to see what the official celebration date is – then who knows!!

Sue King
"The Canterbury Tales" Panto, Friday 10th to Sat 12th February, 2011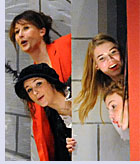 2011's offering from the Pepperbox Players was another of their occasional excursions away from the traditional panto fare (Aladdin, Jack & the Beanstalk, etc), and went off very well. "The Canterbury Tales", scripted by Jim Sperinck with many local references inserted as usual, doesn't have much in common with Chaucer's original except a few names, and that's probably just as well. (The cast does include a miller, but the show didn't include any of the shenanigans that caused us many a snigger at school when "doing" the Miller's Tale.)
The plot was something about young squire Aurelius (Catt Belcher) seeking a magic story to gain the hand of the beautiful Princess Alisoun (Holly Angel), in competition with the baddie Franklin (Phil Brown)—or something like that, but really who cares ?! The fun is what counts, and there were laughs a-plenty, and the usual telling heckles. All told it was a very enjoyable evening, in the Pepperbox Players' best traditions.
Other named parts were played by Colin Males (King Harry, and Hubert) , Lizzie Guild (The Queen, and Redcoat 1), Helen Males (Queen's Maid), John Dunlop (Wife of Bath), Ella Dunlop (Cyril Summons), Rosie Walworth (Percy Pardon), Ches Carpenter (Much the Miller), Mike Coulshed (Arveragus), Nick Plane (the Magician, and Watt), Neill Orr and Simon Angel (Pegasus the Horse—don't know who was front and who was back), Scott Higgins (Chanter), Tom Angel (Perky), Henry Coulshed (Reeve, and Redcoat 2), and Mandy Webb (Redcoat 3). The chorus and other minor parts were played by Tom Angel, Scott Higgins, Zoe Guild, Adelice Ashworth, Izzy Ashworth, Rachel Parsons, Alex Brown, Ellie Littlecott, Chessie Sorrell, and Amy Peterson.
Credit too to the production team of Colin Males (producer), John Dunlop (director), Anna Olley (musical director), Ella Dunlop, Rosie Walworth, and Catt Belcher (choreography), Chris Mann (stage manager), Howard Toddd and Katherine Wilcocks (lighting and sound), Simon Walworth (prompt and front-of-house), Colin Males and Chris Mann (sets), Rob Daly and Dave Bramley (stage crew), Alison Hill and Helen Kidman (wardrobe).
For photographs of the Friday performance, click here.
PTA Quiz Evening, Saturday 11th December 2010

This was a very well-run and enjoyable evening of quizzing, organised by the All Saints School PTA, and raising a respectable amount for school funds. Sixteen teams competed for the handsome cup with everyone, winners and also-rans, having a good time. The technology seems to have come along a lot in the last two or three years. The setup on the night consisted of a laptop (or was it two?), a control console, a projector, and some nifty software which provided all teams with a continuously updated display of marks so far, positions, and which teams had played their jokers and in what rounds. Neat; and in the capable hands of Martin Fisher and Mike Heyday (quizmaster) it worked almost faultlessly throughout.
By halfway through (raffle time) it was still all to play for. But during the last few rounds the lead swapped back and forth between "Beat the Bishops" and "Frozen Assets" (mostly Whiteparish Share Club members). In the final round, Beat the Bishops just shaded it by a couple of points to win the trophy and bring this good-natured event to a close. The picture above shows the happy winners just as the final result was confirmed. For some more photos, click here.
2010 Fireworks Display
The 2010 Fireworks Display at the Memorial Ground on 13th November was by all accounts fully up to, and perhaps even exceeded, the standard of previous years; with the display being professionally designed and staged thanks to Pains Fireworks Ltd, and the overall event being organised and stewarded by the Whiteparish All Saints School PTA, for the benefit of the school. The photos below were kindly provided by (and are copyright of) Robert Hill; click on any photo to see a larger version. If anyone has any more photos of the event, please let us know—if we get enough perhaps we could put a page in the website Galleries section.
2010 Fete Roundup!
A great big thank you from the 2010 committee for a hugely successful range of activities this year. Several people worked very hard – amongst them the long-suffering families of the committee members!!!!
You will see a breakdown of figures from our trusty Treasurer, Langdon below. As I type this message, we expect the profit to be approximately the same as last year. In this financial climate I think that is a superb result and a tribute to everyone's generosity.
There were some new ideas tried this year – the Quiz night and the Horse show, both of which were an unqualified success. The only sour notes were that bales were damaged again this year on the Friday evening; and we didn't get support from our local constabulary. This made clearing the field after Bands night an arduous exercise for a few gallant folk after a long busy day. We'll take both of these things into account when planning for next year.
Yes – we have booked the date – Saturday 11 June.
If you have ideas and energy to support this great example of village life, then please look out for a fete meeting in October, which will be publicised in the September magazine.
This article cannot be completed without mentioning our friend and a great supporter of the fete, Neil Stace. Neil unfortunately broke his wrist and we wish him a speedy recovery!
Sue King

The money taken over the week of the Fete from all the activities and sponsorship exceeded £12,000, which was down on last year's figure by just over £1000, but still an excellent result. The Committee have tried really hard to lower the expenses that are incurred in running an event the size of "Whiteparish Week" and have succeeded in reducing the costs by some £500 compared to last year, but they are still expected to exceed £5000. Below I have noted the takings achieved by most of the main events.
| | |
| --- | --- |
| Event | Takings (£) |
| Lunches | 236.00 |
| Teas | 291.20 |
| Bar (Saturday) | 474.80 |
| Bottle Stall | 537.79 |
| Treasure Hunt | 43.00 |
| Tuesday Quiz & Raffle | 425.60 |
| Country Kitchen | 432.05 |
| Friday Night (Hog Roast) | 740.00 |
| Friday Night (Bar) | 1,869.95 |
| Pimms | 157.00 |
| Bouncy Castle | 131.90 |
| Raffle | 2,054.20 |
| Children's Tombola | 70.90 |
| Tombola | 194.48 |
| Hook a Duck | 33.14 |
| Carnival Bucket | 31.96 |
| Coconut Shy | 104.00 |
| Stalls | 287.00 |
| Books | 146.40 |
| Skittles | 77.80 |
| Pegs | 12.60 |
| Barbeque | 1,269.25 |
| Scalectrix | 94.65 |
| Welly Wanging | 89.00 |
| Splat the Rat | 41.60 |
| Ice cream Donated by Shop | 102.00 |
| Year 6 | 14.90 |
| Face Painting | 60.50 |
| Pony Show | 410.00 |
| Sponsorship | 1,583.37 |
With a couple of invoices still to be received, we expect the profit that will be shared between the Village School and Church to be somewhere near to last year, when £7000 was divided between the two.
Langdon Nichols
2010 Carnival & Fete Prizewinners
Treasure Hunt: Mrs Unwin and Rachel Unwin
Rounders: The Javelins
Quiz: Beat the Bishops
Grand Draw: Kathy Feely
Fancy Dress Parade
Pre-School: 1 Matthew Gillett; 2 George Davey; 3 Alice Snow.
Key Stage 1: 1 Ethan Marchi; 2 Elena Pinkney; 3 Joe Oliver.
Key Stage 2: 1 Ailsa McWilliam; 2 Jamie Ball; 3 Bethan Oliver
Groups: 1 Ellie and Iona Wyatt; 2 Toby and Maddy Cooper; 3 Amber, Jessica, and Megan Hollick.

Competitions Judged in Church (storytime theme)
Picture of your favourite character
Pre-School: Jasmin Gillam
Poetry ("It was the night before the Whiteparish Fete"
Key Stage 1: 1 Merlin Mulberry; 2 Megan Hollick.
Key Stage 2: 1 Adelice Ashworth; 2 Bethan Oliver; 3 Ellie Wyatt.
Secondary: 1 Amber Hollick; 2 Emma Francis.

Design a Book Cover:
Key Stage 1: 1 Iona Wyatt; 2 Toby Cooper; 3 Amy Tanner.
Key Stage 2: 1 Holly Mills; 2 Kieran Higgins; 3 Ellie Littlecott.

There were no entries in the Adults Art Section.

2010 Pantomime: "Aladdin"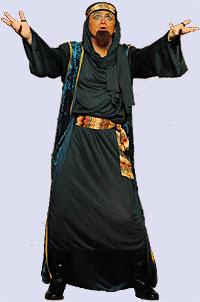 February 4th, 5th, and 6th saw the staging of another top-notch village panto by the Pepperbox Players—this year's was the more traditional Aladdin (which they had last done back in 1992). We went to the Friday performance (or one of us did, anyway), and thoroughly enjoyed the show.
It would be unfair to single out individual performers for praise. As far as we could tell, everyone played their parts well, both onstage and off, in a slick production; and the company seems to go from strength to strength. The prompter didn't seem to have as much work as in some previous years (can't imagine why!). And the costumes seemed especially good this year, notably Abanazar's (see left) and the genie's—so well done to the wardrobe team. According to the programme notes, scenery painting had fallen behind schedule because of the snowy weather and the loss of a set (due to an unfortunate incident with a blowtorch and some frozen paint), but it was all in place for the show—so well done there, too. Thank you, Pepperbox Players; whether main characters, supporting players, or production team, you're all stars !
Main Characters

Aladdin
Ella Dunlop
Widow Twankey
Phil Brown
Wishee Washee
Henry Coulshed
The Great Abanazar
John Dunlop
Emperor ChopSuey the Twelfth
Nick Plane
Empress Dragona the Thirteenth
Lizzie Guild
Princess Say Wen
Rosie Walworth
So Shi/Madame Flash Bang the photographer
Holly Angel
Chow Mein the Vizier
Marcus Reynolds
Princess Pekoe
Jenny Olley
PC Bamboo
Helen Males
PC Typhoo
Mike Coulshed
Mazda the Genie
Colin Males
Strong Pong the Executioner
Jimmy Goodland
Mazzawattee the Fairy
Mandy Webb
Rick Shaw/Sing Hi
Carl Belcher
For some photos of the show, click here.
I am very pleased to report, on behalf of this years' committee, that the grand sum of £7000 will be shared between the school and the church !!! You will see from the breakdown of the figures Langdon Nicholls has kindly prepared that we have a small surplus in hand to kick off next years' proceedings.
The marvellous weather undoubtedly helped us have a very successful day and our grateful thanks go to everyone who worked so hard to make a day to remember. I have to say a big thank you too to my very generous employers, Southern Electric who increased our takings by £1000 !!
After giving you that lovely news it is a shame that I have to share some rather more disappointing news with you. There is a gentleman in our village who for some time has helped the church raise funds by hiring out a marquee he owns and then giving half of the fees he collects. This year a considerable amount of damage was caused to his marquee, so much so that it really can't be used in future. In the course of our investigations as to what happened, it appears that several adults witnessed young people causing the damage but did nothing to stop it. I really don't understand how that could have happened and hope that we don't become victims of our own success. There seems to be an increase year on year in the vandalism – last year guy ropes and the twine on the bales were slashed and the previous year the pavilion was broken into. This Friday evening event has become very popular and it will be a great shame if we have to abandon it. Let's try harder next year to ensure nothing like this goes unchallenged.
Fete day 2010 is 19 June – please put it in your diaries and give the great support you did this year.
Thank you to all our sponsors and our customers – we couldn't do it without you.
Sue King
More About the 2009 Hog Roast/Bands Night, and Carnival & Fete
Hog Roast/Bands Night


Spot the Band—through a tentful of happy dancers pogo-ing (mostly) to the Specials' "Too much too young".


Ah, there they are. Headliners "May Contain Nuts"
Thanks to commitments elsewhere (making salads etc for the fete lunch tent the following day) we could only manage to spend an hour at the Hog Roast, but it looked like everyone was having a great time. Headliners May Contain Nuts (MCN) were serving up hits from the 60s, 70s, 80s, 90s, and Noughties with guts and panache, seemingly not put off at all by weeny break-dancers a couple of feet in front of their mike stands! Hadn't seen MCN before, but they can certainly play.
The evening seemed very well attended, with little groups of friends socialising all over the Memorial Ground, and (we understand) a record amount being taken on the barbecue & roast stall. So quite promising for the fundraising.
Carnival & Fete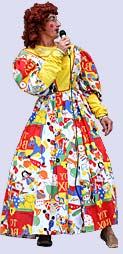 Can't help thinking the fete's living on borrowed time as far as the weather is concerned. This must have been the fourth? fifth? year running without rain, although some was forecast. Anyway, even if the carnival procession was a little bit short of floats (basically there was only one: a splendid thatched Morris Minor with added dragon from the King's Head), everyone in the parade made up for it with enthusiasm and some excellent "panto-themed" costumes. Some of the adult costumes looked a teeny bit familiar, but if members of PP have taken recycling to heart that's very commendable !
The fete was formally opened by attractive local girl-about-town "Colleen" (see left), though one couldn't help noticing that perhaps if she'd made more use of her LadyShave (or any use of it, come to that) she'd have been even prettier !
Then the fete proper was under way. First item was the presentation of prizes for the fancy dress costumes in the parade, with pride of place going, as usual and quite rightly, to the children's classes. And after that it was all the usual fun of the fete, including a dancing display and a juggler, which was nice. This year, unfortunately, there were no entrants (or not enough, anyway) for the tug-of-war to be run. We wondered if interest might fade towards the end of the afternoon without this event, which has been popular in previous years. But the ground still seemed to be pretty full well after four o'clock, with a lot of people staying for the Grand Draw.
For photographs, click here. For a movie of the start of the procession, then all the participants in front of the pavilion, click here. Many thanks to Martin Fisher for sending us the movie file. (The file may take a little while to download. If it doesn't play , try clicking on the link again and it will probably start!)
Thanks
The Fete Committee are very grateful to the following companies for their generous sponsorship:
Golden Acres Nurseries, Pains Fireworks, Lancer Property Asset Management, Langdon Nichols, D J Davis & Sons, Cleansing Services Group Ltd, Courtens Garden Centre, and all contributors to the Grand Draw Prizes.
The committee would also like to thank everyone who has contributed in any way to the fete.
"The Vampire Strikes Back"

2009's panto from the Pepperbox Players, staged in the Village Hall on the 5th, 6th, and 7th February, was right up there with the best of previous productions that we've seen from them. We went to the Saturday evening performance and, like everyone else in the audience, had a great time.
The whole company deserves praise, but of the leading players Jimmy Goodland made a fine job of the role of Count D'Arcy Dracula, with comic expressions and poses to call on for every situation and his traditional rapport with the audience. The wonders of make-up turned Mandy Webb from the Village Stores into a suitably villainous-looking (and boo-and-hissable) Comtesse Elvira d'Evilla, with her amorous eyes on the Count. John Dunlop as Franklyn Stein the butler led the chorus in a stompingly professional performance of "The Time Warp" from the Rocky Horror Show. Nick Plane and Ian O'Neill as the Ugly Sisters lifted ugliness to a new plane (sorry), and Jenny Olley (as heroine Delilah) and Holly Angel (as Nurse Tway Snightly and the voice of the Magic Mirror) were the opposite and put in fine performances, too.
The Coulshed family seemed to be making a takeover bid with four parts: Mike as a genial Colonel Ivan Itchen-Knutt (not sure about some of these names . . .), son Henry as a convincingly head-in-the-clouds aspirant writer Bill Shakespeare, and Mrs Coral Coulshed elegant as both Henry's Mum and Renata Grande Huile, wife to village shopkeeper Rene Grande Huile (Colin Males). Sterling performances too from Rosie Walworth and Ella Dunlop as Ding and Dong; Ches Carpenter as a "rapacious romany ruffian" and bandit chief; Helen Males as Mrs Ava Dracula (the Count's Mum); Rob Wale as Dr Scratchinsniv (who seemed to have brought a fan club); Phil Brown (who also directed) as Fairy L E Phant and "Barry" and last but by no means least Neil Orr and Alison Hill (though alas she couldn't make it on the Saturday night) as the front half and back half (though not necessarily in that order) of Donkey Hoti.
Other mostly younger members of the company did everything that could be expected of them and more in their supporting roles: as Villagers, the Gypsy Band, and the Senior and Junior Choruses.
For squillions of photos, click here.
PTA's Wine, Beer, and Music Evening
This fund-raiser for the Whiteparish School PTA, staged by local company CliffordMG in the Village Hall on 25th September, was very well attended and a great success, raising over £600. Sponsors included the Fountain Inn, Munro Accountants, Stuart McWilliam Photography, DJ Davis & Son Bouncy Castles, Redmayne Bentley Stockbrokers, Crusader Carpets, and Clifford Solutions. Rather than try to describe the evening here, it's easiest to leave that to the video highlights in the following YouTube clip! (Thanks to Martin Fisher for providing us with the link.)
Garden Club Flower & Hobbies Show, August 23rd 2008
The Garden Club's annual Flower and Hobbies Show was held in the Village Hall on Saturday 23rd August, with all the usual careful staging and friendly competitiveness ! This year the prizes were presented by Dr Rosemary Parry of Whiteparish Surgery. For a nice set of photos kindly sent in by Dawn and Langdon Nichols, click here. For the prizewinners and the garden club's own report of ths show, click here.
The Fete was Great in 2008

Sorry about the corny heading . . . but 2008's fete really was a good one ! Because no-one actually counts heads as people come in, it's impossible to say just how many people visited the 2008 fete—but attendance seemed just as good if not better than recent years. The parade, led by the New Forest Plonkers on a float, also seemed a bit fuller than in some recent years, with plenty of imaginative and colourful costumes on the "flight" theme. As appropriate for an event called the Magnificent Flying Fete, the official opening was performed by the magnificently costumed "rocket man", whose delivery and moves brought to mind a familiar Pepperbox Player, but perhaps that was just a coincidence . . .
So the fete proper got under way, the sun shone throughout, the New Forest Plonkers played throughout (when they weren't taking time out to play at being a tug-of-war team—good on the weight, maybe less so on the technique)—and everybody had a good time. The tug-of-war saw some impressive muscle and poundage being put to work, with the team from the Parish Lantern finally emerging worthy winners of a keenly-fought but friendly contest. Towards the end of the afternoon, there was a really nice display of maypole dancing from children of Whiteparish All Saints School, which along with the church benefits from any profit that the fete makes.
On display in the church on fete afternoon were some magnificent flower arrangements, together with entries from Whiteparish schoolchildren in the the photographs, models or paintings competition; and quite a few people took the time to admire both the flowers and the competition entries.
The fancy-dress competition winners were as follows. Pre-school: 1st Elena Pinkney, 2nd Amelie Davey, 3rd Toby Cooper. 4 to 7 years: 1st Joe Oliver, 2nd Ellie Wyatt, 3rd Luke Taylor-Blake. 8 to 11 years: 1st Scott, Amy, Kieron, and Georgia Higgins, 2nd Kate Woolstencroft, 3rd James and David Skeates, Charlie and Edward Davis, and Louis Rendall.
For some photos of the parade and the fete, click here.
Multi-User Games Area (MUGA)—Grand Opening

The MUGA facility on the north side of the Memorial Ground was officially opened on Wednesday 11th June 2008 at about 4.30, with the traditional cutting of a ribbon. However before this, pre-school and primary-age children from All Saints School enjoyed some sports coaching and fun sports competitions, and were then amazed when a Royal Navy helicopter flew in and landed on the memorial ground, and the two aircrew emerged to present one of the prizes (for the longest flight by a paper aeroplane) and to watch the ceremony.
After some introductory words from Nigel Peterson (chairman of the Memorial Ground Committee), Canon Roger Sharpe made a short speech and blessed the new facility. Then Andrew Lax, who had made a generous donation to construction costs, enabling the completion date to be brought forward, cut the ribbon and declared the MUGA open. The children streamed out of the MUGA and the naval aircrew kindly showed some of them the helicopter (in groups). Afterwards there were more activities, including some sports coaching for all ages.
For some photos, click here.
Children's Easter Banner Dedication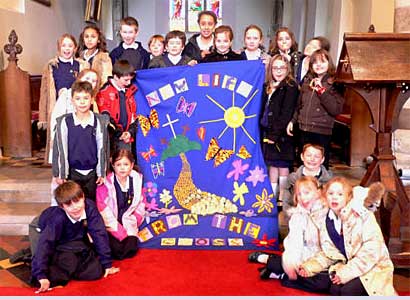 The photo shows children of Whiteparish All Saints C of E Primary School with the Easter Banner they have created during their Christian Club, XTREME.
The Ven. Alan jeans dedicated the banner during the school Maundy service where the children re-enacted The Passion in the church and surroundings. The Archdeacon then dedicated the school's new classroom and enjoyed a celebration tea party with the children, parents and staff. For a photo of the banner by itself, click here.
Annual Fireworks Display
The 2007 fireworks display was held on the Memorial Ground on Saturday 10th November; in clear and not-too-cold weather. Profits from the display go to All Saints School, and the school are most grateful to Pains Fireworks for their generosity in staging yet another spectacular display. The school also wants to thank the many villagers and others who bought tickets and enjoyed not only the fireworks but the extra attractions, which included hot dogs, candyfloss, hot chestnuts and mulled wine, and fairground rides for younger children; also the parents and others who helped with the organisation. The final profit was a very impressive £4,300 or so, a new record for the event.
For photographs, click here.
"Slum Survivor" Challenge
Slum Survivor was part of a joint initiative between two charities—Soul Survivor and Tearfund—which took place in Winterslow and Whiteparish at the end of October 2007, and in which 18 local teenagers took part. The aim was to raise young people's awareness by simulating the slum conditions in which one billion people live worldwide. For more information about the project and some more photos, click here.
Annual Pumpkin Show and Halloween Fancy Dress Competition, 2007
Whiteparish Garden Club held their annual Halloween Fancy Dress and Pumpkin evening on October 25th. It was a great success with 22 children taking part and 40 entries in the various classes. There were some weird and wonderful outfits together with imaginatively decorated pumpkins. Lynn Walworth, who very kindly agreed to be Judge for the evening, had her work cut out in having to choose the winners in each category. However, after much deliberation, she selected the following:
| | | | |
| --- | --- | --- | --- |
| Category | 1st Prize | 2nd Prize | 3rd Prize |
| TRADITIONAL LANTERN | Harry Gould-Hocking | James Ball | Jake Burgess |
| DECORATED PUMPKIN | Sophie Connolly | Holly Mills | Emily Ball |
| FANCY DRESS | Jake Burgess (Einstein) | Emily Ball (Witch) | Joe Oliver (Skeleton) |
| ADULT (largest circumference pumpkin) | Don & Janette Munroe | | |
Annual Flower and Hobbies Show, 2007
The Garden Club's annual Flower and Hobbies Show was held on 25th August 2007 in the Village Hall, and prizes were presented this year by PC Henry Clissold, our Community Beat Officer. For a fuller account, click here. For some more photos, click here.
Carnival Week and Annual Fete, 2007
After rather a soggy start I can safely say that this year's events were a record success!! Thank you to all those who patiently set up their cars for the Car Boot Sale and I can only apologise for the dismal weather and poor turn out. The children didn't mind and loved the Rounders Tournament and BBQ. Better luck next time.
The Friday night Hog Roast was a great success with five local bands playing and lots of enthusiastic youngsters enjoying an event especially for them.
The fete was a good all round family day out with entertainment for everyone young and old. The New Forest Plonkers were such a hit they are already booked for next year. We are also very grateful to the Countess of Chichester for bringing Therese the camel along to join the Carnival. This was done entirely free of charge and drew the crowds as well as delighting the children. Therese helped judge the Fancy Dress with aplomb being herself decked out in glorious Indian costume. The 1st Prize winners were thrilled to win a camel ride ...what an experience!
Thanks also to the Army for laying on the assault course which being free kept the youngsters busy all day, while their parents enjoyed the refreshments, stalls and music.
We are therefore delighted to announce that the combined events raised over £7000* for the church and school. A fantastic result. I'd like to thank all those on the committee who worked their socks off to this end:
Joanne Austin on Teas, Chris Crew on the Bars, Neil Stace on Sports, Claire Smith on Stalls, Sue and Trevor King on BBQ's, Jane Dunlop as Treasurer.
Not forgetting Dave Crombie on Electrics, Chris Mann on Hog carving and the Manners on Counting.
Thank you too to all the other generous folk who played their part in the weeks' events.
Finally may I just add that you don't have to be a member of the school or church to join the committee or help out, in fact we will be looking for volunteers to take on small but essential jobs like setting up the children's display in church on the Friday afternoon or getting the bread rolls or being in charge of rubbish ( I can recommend that one and Yes we did recycle the lot !) SEE YOU NEXT YEAR
Jane Lax
(For fete photos, click here.)
*Thanks to a generaous donation from Southern Electric, the final figure was actually over £8000—an even more fantastic result !
Full house for the Pepperbox Players
The Pepperbox Players are delighted to report that this year's panto, ' Alice in Wonderland' on February 8th —10th, had a full house on the Friday and Saturday evenings and the Saturday matinee and the hall was literally heaving. The atmosphere was great and the interesting take on Alice in Wonderland, to include a Queen (as in the rock group) rendition and a scene of Blind Date, delighted the audience.
The 'amateur' actors rose to the challenge (nothing like a big audience to fire your cockles) and gave superb (and sometimes very professional!) performances, with the odd bit of forgetfulness and some hilarious ad libbing, which always goes down a storm.
It is great to have the continued support of many in the village and this year, more press coverage brought in the curious from Salisbury and over the hill Tytherley, not to mention Landford and Wellow. Word is clearly getting out, outside the village. Regretfully, the Village Shop had to turn people away when all the tickets had been sold, so reserve your seats early for the 2008 performance – whatever that might be – for another creative re-enactment of a classic panto.
And by the way, don't forget Thursday evening! – the opening night can be a gem in itself! It's a great opportunity for clubs, societies and other groups, with special group rates, so please enquire when we publicise next year's event on the website.
2006 Village Photo, 10th December
Stuart McWilliam, one of our local professional photographers, took the 2006 Parish Photo from some handy scaffolding that was already in place on All Saints church tower for the current re-shingling work. Unfortunately there was a slight mix-up over times, so not as many people turned up to join the congregation outside the church as might have been hoped—but there was still a reasonable crowd. We can't include the parish photo itself on the website—not yet, anyway—because prints of it are to be sold (£5 each) to help fund the re-shingling work. However, you can see a couple of photos of the occasion by clicking here.
2006 Annual Fireworks Display, 11th November

The 2006 Fireworks Display, staged by Pains' Fireworks, was held on the Memorial Ground on a windy but clear evening—with the wind blowing the smoke etc away from the crowd, so we all had a good view. This year the Sherfield English fireworks display down the road was unfortunately scheduled for the same evening, but this didn't seem to have any noticeable impact on numbers at the Memorial Ground. As well as the fireworks, there were plenty of other attractions to appeal to young and not-so-young alike, including a big bouncy-castle-style slide. And as ever, the display was spectacular. This event is organised by the PTA for the benefit of All Saints' School. The school have asked us to express their thanks to Pains' Fireworks for a magnificent show, and to all who came to support the event, which this year raised over £3000 for the school—a record. For some photos, click here.
Annual Pumpkin Show and Halloween Fancy Dress Competition, 2006
The Garden Club's annual Pumpkin Show and Halloween Fancy Dress Competition was held on 26th October 2006 in the Village Hall. With a record number of entries in the children's section, judge Don Munro had his work cut out picking the prizewinners. For a fuller account, click here. For some more photos of the event, click here.
Annual Flower and Hobbies Show, 2006
The Garden Club's annual Flower and Hobbies Show was held on 26th August 2006 in the Village Hall, and prizes were presented this year by Mr Jeremy Wood. For a fuller account, click here. For some more photos of the event, click here.
Hog Roast & Annual Fete, 2006
On the evening of Friday 16th June the second-ever pre-fete Hog Roast was held on the Memorial Ground on a very pleasant, warmish, evening. While the event followed the same general format as last year (roast hog, beer, music), the musical content was wider this time. The redoubtable Cricket Club All-Stars did their thing, but some of the village's younger musicians played their hearts out, too. The evening was a great success and now seems to be becoming an established feature of Fete week. Let's hope so, anyway!
On the following day the traditional annual fete was held on a lovely warm and sunny afternoon. "Commander James Bond" took time off his less exciting duties (like creating mayhem for Queen and Country) to pilot a Royal Navy helicopter all the way to Whiteparish just to open our Fete. (Someone in Whiteparish must have some good connections!) The fete was well attended with gym and dancing displays, football competitions, tug of war, the Gun Run, and the Procession and Prizegiving as usual, together with a good variety of stalls and other attractions round the field. Some of us slavered over Commander Bond's Aston Martin in the cars section, and another particularly nice exhibit that we noticed there was a pre-war Salmson sports car, entered by Mr Truman, former headmaster of All Saints School. Those fine musicians the Hythe and Dibden brass band accompanied proceedings in their usual very competent way.
The organisers are grateful to everyone who made the event such a success, and on their behalf Sue King has written a "thank you" on the Fete's own page, which you can read by clicking here.
For more photos, click here.
Community Building Village Meeting, 17th March 2006
(Because of its importance to the village, we're giving more space to this report than for most of the items that appear here.)
Nearly 80 people attended this lively meeting on a bitterly cold evening at the village hall. Trevor King (chair of the Parish Council) introduced the meeting and gave the historical backgrounds of both the Village Hall building and its upkeep, and the Memorial Ground sports pavilion and its upkeep; and summarised previous attempts to build a combined community facility, bringing us right up to date.
Dave Boakes, chairman of the Community Building Working Group, then gave an excellent presentation of the pros and cons of building a new combined village hall and sports pavilion. The Working Group had done this initial groundwork but in order to take things further they needed feedback from the meeting on whether villagers would wish to go ahead with this scheme. Both Trevor King and Dave Boakes impressed upon those present that the decision tonight was not irreversible, and there would be no commitment to proceed with any specific plan without another village meeting, when definitive proposals would be presented.
The meeting was then invited to ask questions or air views or comments on the proposals. One villager advised that two useful websites offer more information on these very problems. The Charities Commission's website www.charitycommission.gov.uk which gives examples of how two trusts can be combined, (we have our Village Hall Management Committee [a Trust], and the Memorial Ground Trust). The Sport England website www.sportengland.org has examples of good guidance on planning an effective village hall/recreational facilities building. The working group will be putting information on any further developments in Steeple & Street. After a lively session, the meeting was then asked to vote on the following:
"Does the village support the attempt to develop a project for a single community building, providing both village hall and pavilion facilities, to be located on the Memorial Ground, and the necessary changes to the two charities involved to allow this to happen effectively?"
There were about 70 FOR the proposal, and approximately 8 AGAINST.
The meeting then closed at 8.30 pm
Jackie Hawker

Excellent Ofsted report for All Saints School
Ofsted inspectors issued what Paul Sorrell, chair of governors, described as a "glowing report" on Whiteparish's All Saints Primary School. Teachers were described as "very good"; pupils were praised for their "excellent attitude"; parents supported both their children and the school "very well"; and the head teacher Carol Kite was praised for her leadership. On the school's own page within this site, you can find links to summary and full versions of the report.
If you want to publicise a forthcoming village event, or to give us a report of one that's recently happened, give us a call on 884689 or email us at comments@whiteparish.co.uk.